I love seafood markets.  In Austin my go-to places are Central Market, Whole Foods, Quality Seafood and the seasonal offerings by Costco of Copper River salmon and Pacific halibut.  Katie's Seafood in Galveston sits on the pier and has fresh shrimp and whole red snapper that can be cleaned any way you like it.  I always made a point to walk by the Citarella display on the Upper West Side in Manhattan whenever I could, and spent too much time looking longingly at the offerings of The Lobster Place in Chelsea Market.  I really tried to like  Maine Avenue Fish Market in D.C. while we were there.  My favorite seafood market of all time has to be Pike's Market in Seattle, where among many other outstanding offerings, they make the best hot-smoked salmon in the world.  Here are some pictures of that happy place.
Before I arrived in Chennai I researched the variety of local fish available.  Alas, salmon – which my family loves most of all – simply is not.  Not that it was locally available in Austin, the difference here is that no commercial transportation infrastructure can bring it from points across the world to Chennai.  Depending on your point of view that can be good or bad, but at the end of the day you can be sure that what you get here will be very fresh.  Nor is the fish displayed on artistically landscaped beds of snow-white ice chips.  Not that there is anything wrong with that, either.  In the U.S. I loved the colorful presentations of whole fish, fillets, plump headless shrimp, oysters, marinated fish, steamed shellfish, the eye-candy of local, international, and prepared offerings goes on, heaven in a deli case.
To get to the Chennai fish market you drive to the center of town, and the last stretch takes you along the beach where the fishing boats are already in for the day resting on the sand.  About a quarter mile off the beach road (just under half a kilometer, I should say) is a complex of thatched stands all tied in next to each other.  There is no mistaking from the smell that you are at the fish market.  You enter through a narrow path stepping up from the street, sometimes dirt, sometimes mud.  There is barely room for two people to walk past one another on this path.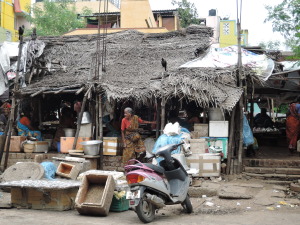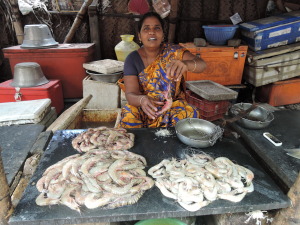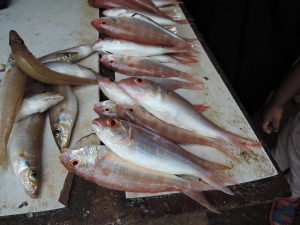 Tables of fish are out on both sides, and as you walk away from the beach the fish tend to get smaller, although that is not always the case.  In contrast to my favorite markets in the states, what you find here is fish, plain and simple.  Fish with the fishing line still in his mouth.  Tiny fingerling fish and big fish weighing over 20 pounds (over 9 kilograms, or "keej," I need to teach myself).  And plenty of shellfish.  Small squid and big squid, shrimp (not shrimp, prawns here), tiger prawns, langoustines, live crabs.  The fish are proudly displayed on wooden tables and nothing else, just the fish.  If you even cast a glance with your peripheral vision the woman behind the table exclaims "fresh fresh!" and bends back the gill to show how bright red and recently alive it was.  For the seafood purist, it does not get any better than this.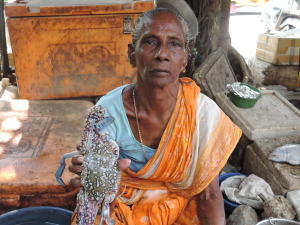 It is openly acknowledged that the offering price for a non-local is about three times the price for locals.  I have the option to send someone local to buy for me but I just can't stay away.  The prices are still pretty good, especially when you remember you are dealing for seafood that was swimming in the ocean just a few hours earlier.  The women – for some reason all of the fishmongers are women – are friendly and they are tough negotiators.  The prize fish here is Kingfish, locally also known as seer.  My favorite here is sankara, a close relative to red snapper, and there is a huge variety of other fish to explore.  Once you have completed your transaction you head back across the street to have your fish cleaned.
Across the street a row of men sit in front of huge cutting stumps, ready to clean your fish however you like it.  The cost is about a dollar for one large fish or a couple of small fish.  They are mostly friendly but can be aggressively territorial with their customers.  Not much talking goes on here.  Once you tell the cleaner how you want your fish he goes to work, and very methodically turns your whole fish into something more suitable for the kitchen.  Every now and then he will run his knife across the cutting stone to maintain the razor-sharp edge.
At the end of the day, however you get it, fresh seafood is just unbeatable.  That is certainly what you get in Chennai.  And as much as I still love and miss my favorite seafood markets in the U.S., I am a fan of the market here.  It is brimming with personality, always a bit of an adventure, colorful, fresh.  Everything you need and more in a seafood market.