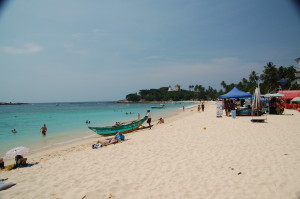 Sri Lanka is about a one hour flight and a world away from Chennai.  We started our first vacation there earlier this year with lunch at an outdoor spot in Colombo which reminded me of open air cafes in South Beach.  We took in a little of Colombo's famous shopping, hit a juice bar and then made the 2 1/2 hour trip to the south coast.  Half the travel was escaping the grind of late afternoon Colombo traffic, and the rest was on a nice expressway where we traveled faster than we have since landing in India last July.
The waters of the Indian Ocean at Unawatuna sparkled blue and green, and the temperature was perfect.  The main beach of Unawatuna offered sitting and lounging areas, restaurants, diving and boating excursions, and more.  Some travel sites say that Unawatuna has devolved into a commercial zone overrun with tourists but we did not find that to be the case.  There are many small independent hotels, clothing shops, souvenir stores and food stands along the road which to me contributed to the overall character of the place.  It was great being able to sit on the beach and order fresh juice, food, and beer.
We stayed on the water at the Calamander on our first trip, it did not have its own swimming beach but offered stunning views of the ocean.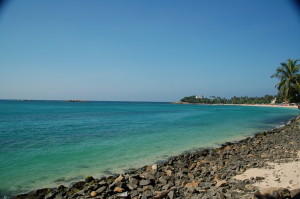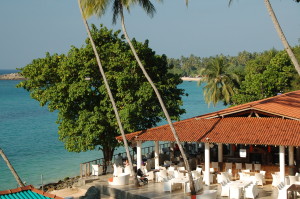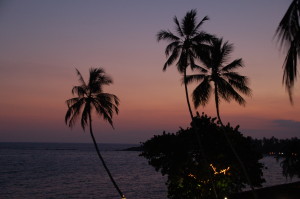 The nearby beaches each had their own character, each like a precious stone that sparkled blue and green colors in its own unique way.  The main road runs right along the coast and we were constantly tempted to get out of our car and explore each different stretch of coastline.  We ended up spending most of our time at either Unawatuna or Hikkaduwa, which was about a thirty minute drive from our hotel.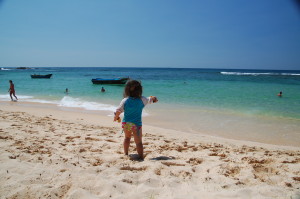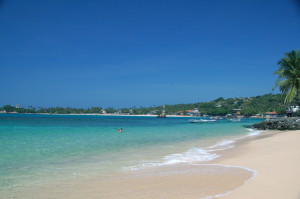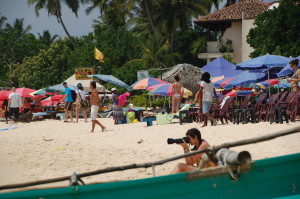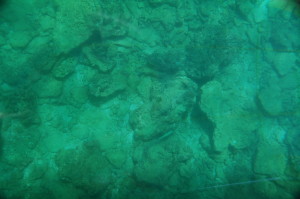 So we didn't get too far from the Calamander when we returned to Sri Lanka in May.  The Calamander was great, but with two young children we wanted to spread out in a house and found this spacious place through AirB&B right on the beach.  It had a lovely pool which we never ended up using, a fantastic yard, and a 'seawall' with steps right down to the beach.  The beach was mesmerizing to watch from morning to night.  The coral made it not suitable for swimming or frolicking but that was okay.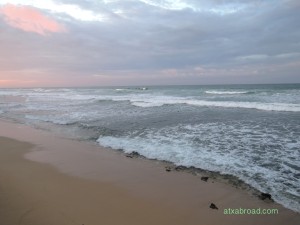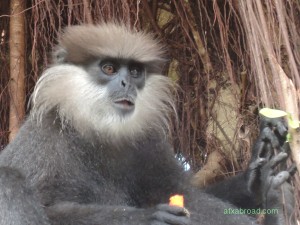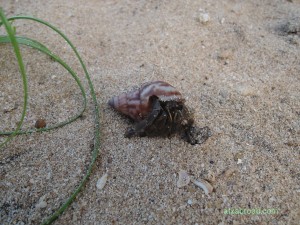 Wow – Sea Turtles at Hikkaduwa Beach!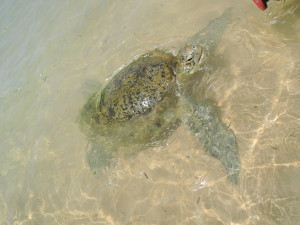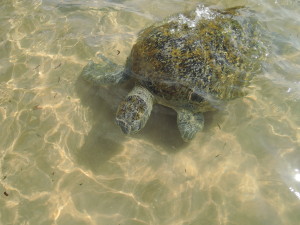 We spent a couple of afternoons at Hikkaduwa Beach, part of that time poolside at Chaaya Tranz hotel and then exploring the adjacent beach.  We were amazed to find green sea turtles swimming close to shore!  The first day we saw two, then the next time we were there we saw four.  These turtles enjoy a mostly vegetarian diet and bags of seaweed are available for sale on the beach.  They swam up into about two feet of water and were not daunted by the gathering of people to watch and photograph them.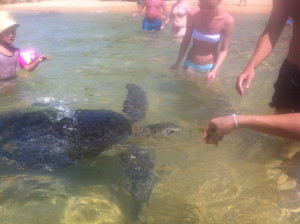 Fortunately most people had the good sense and awareness not to touch the turtles.  Being in the water with these beautiful turtles may have been the highlight of the trip.  Even though this experience gave the impression of an abundance of turtles, unfortunately turtles here and worldwide remain victim to egg theft, the tortoise shell industry, and other impacts that push down on their population.  Conservation projects here and worldwide work to maintain and increase this population.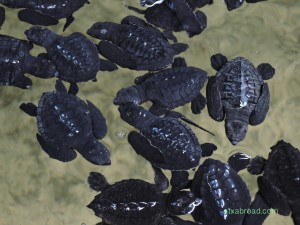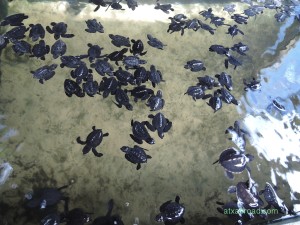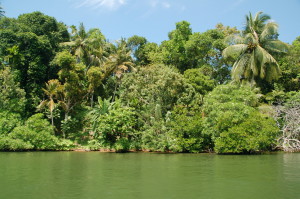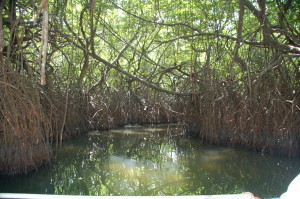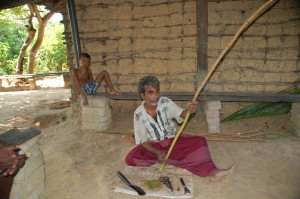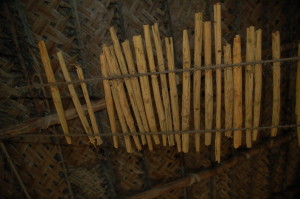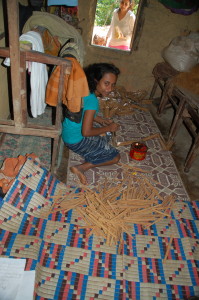 Maduganga River Mangrove Forest tour.  Near Hikkaduwa Beach we went on a two hour mangrove forest boat tour.  An interesting feature of this tour was the low rail bridges we went under in the boat.  Our boat driver told us to duck, an obvious necessity to keep your head.  For one bridge if you raised your head too much you would lose at least part of it.  It struck me that back home no one in their right mind would operate an enterprise like this – too much risk that someone might look up at the wrong time and the results would be catastrophic.  And there was no other solution than simply to keep your head down – given the water level and the bridge clearance this is what you had to do to get into the area you'd want to see.  In the face of this unacceptable risk the tour would not have been an option.  I am glad it was for us.
Our first stop was for a fish foot massage.  I am not sure about the therapeutic value of this but it is reported to have some and in any case it was fun feeding the fish and watching them swim.  The area is known for its cinnamon production and we went to an island where cinnamon was cultivated, harvested and prepared for sale.  I am very fond of cinnamon so this was a real treat.  The man doing this work showed us the cinnamon leaves from which cinnamon oil is extracted, and demonstrated how the bark is cut from the branches and then dried.  Later we saw a mysterious mangrove river creature with a forked tongue but never figured out what exactly it was.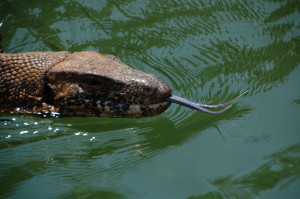 Galle Fort.  Galle Fort was established by the Portuguese in the 16th Century, then refortified by the Dutch in the 17th Century.  It is now a walled city with restaurants, apartments, tea and spice shops, and clothing stores.  The narrow streets and architecture make the area somewhat reminiscent of the New Orleans French Quarter.  It was a great place to stroll, the food was fantastic, and the expansive views from the top of the fort walls over the ocean were breathtaking.  The government of Sri Lanka has done an excellent job preserving this gem.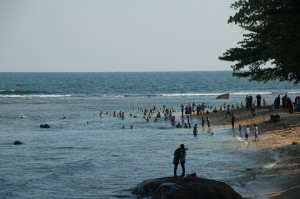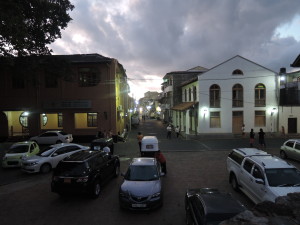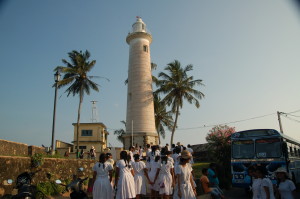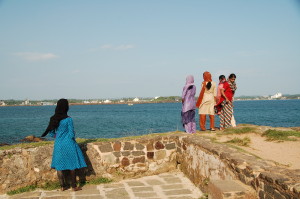 If only Sri Lanka weren't so far from the USA.  We are lucky to be so close to it.  If you can manage the time and expense for the long trip to Sri Lanka from the USA you will not be disappointed.  People spend weeks in Sri Lanka and still do not see all it has to offer.  We will go back to see the famous national parks and wildlife, the mountains, tea plantations, and of course, to say hello to the turtles.