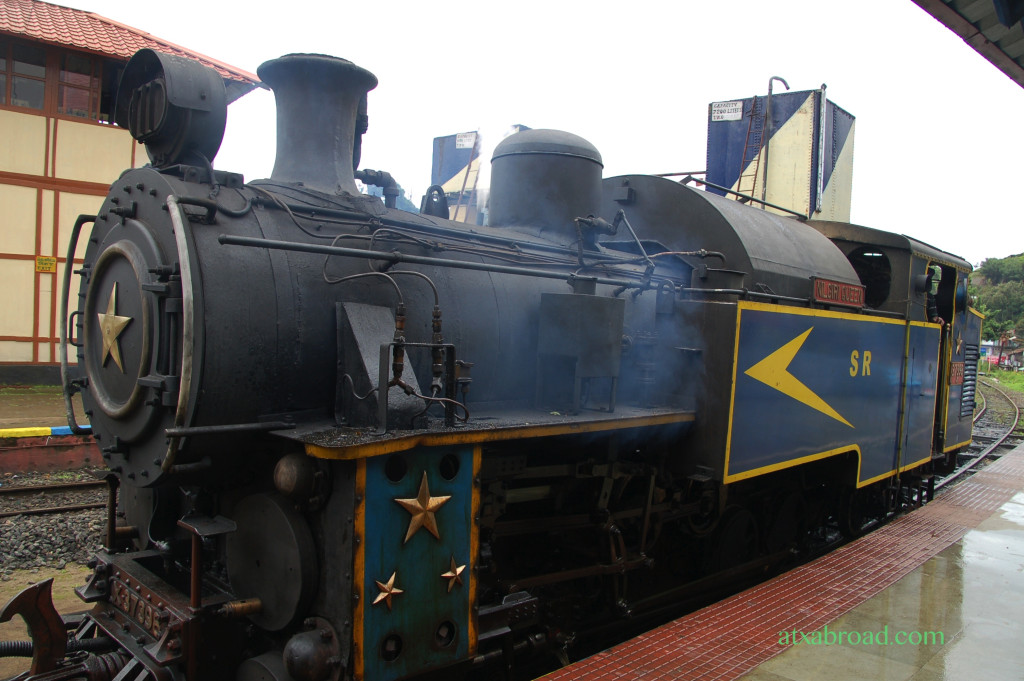 After living in Chennai for eleven hot months, the thought of crisp air and sweaters seemed like a faraway dream.  So we could hardly believe it when after a short plane ride to Coimbatore, followed by a 3 hour car ride to Coonoor, we stepped out into cool mountain weather.  In June, on the heels of the hottest month in south India, no less.  As much as the gloriously cool weather stood in contrast with Chennai, so did the soft and lush environment  For the entire trip colorful flowers and expansive greenscapes surrounded us.
Shortly after arriving in Chennai our first driver told us that this part of the Nilgiris was popular with the British community because it reminded them of home.  After visiting the amazing manicured Botanical Garden in nearby Ooty and relaxing into the cool air I could see why.  We also saw endless tea plantations and visited a fascinating tea museum.  Most of all, I enjoyed the mountain scenery and the weather.
We took this trip when my sister and niece were visiting India from Texas and all had a good time.  We stayed at the Wallwood Garden, a heritage hotel in Coonoor run by the Neemrana group situated amidst its own beautiful gardens.  The property was originally constructed as a home in the 1800s.  Our spacious Cherry Blossom suite overflowed with character and its furniture and decor reflected the building's history.  A well-tended courtyard full of flowers sat right outside our room and provided great space for the children to play, and for us to enjoy coffee and other refreshments.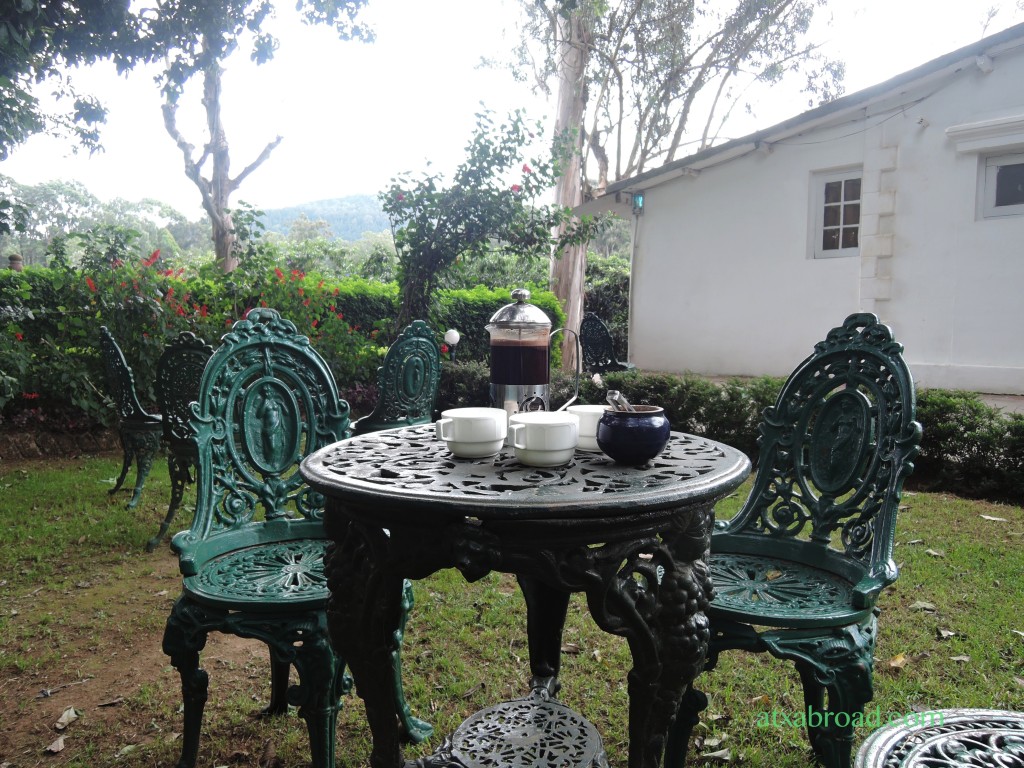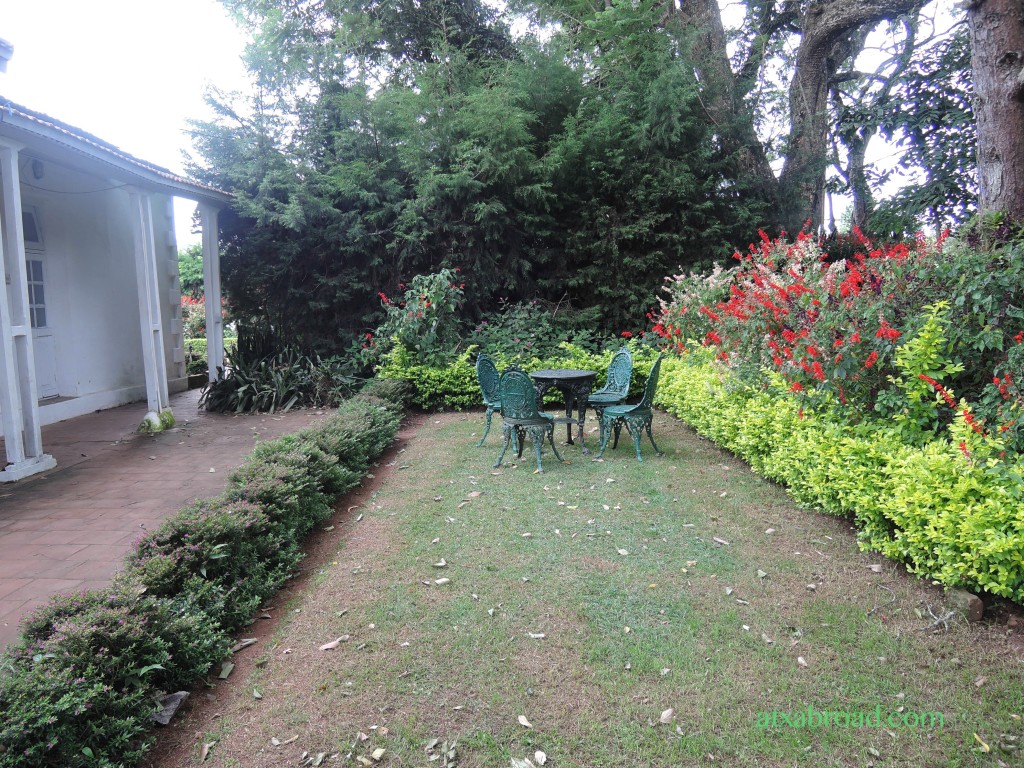 A gazebo sat just down the hill, and beyond that, the Pomological Gardens.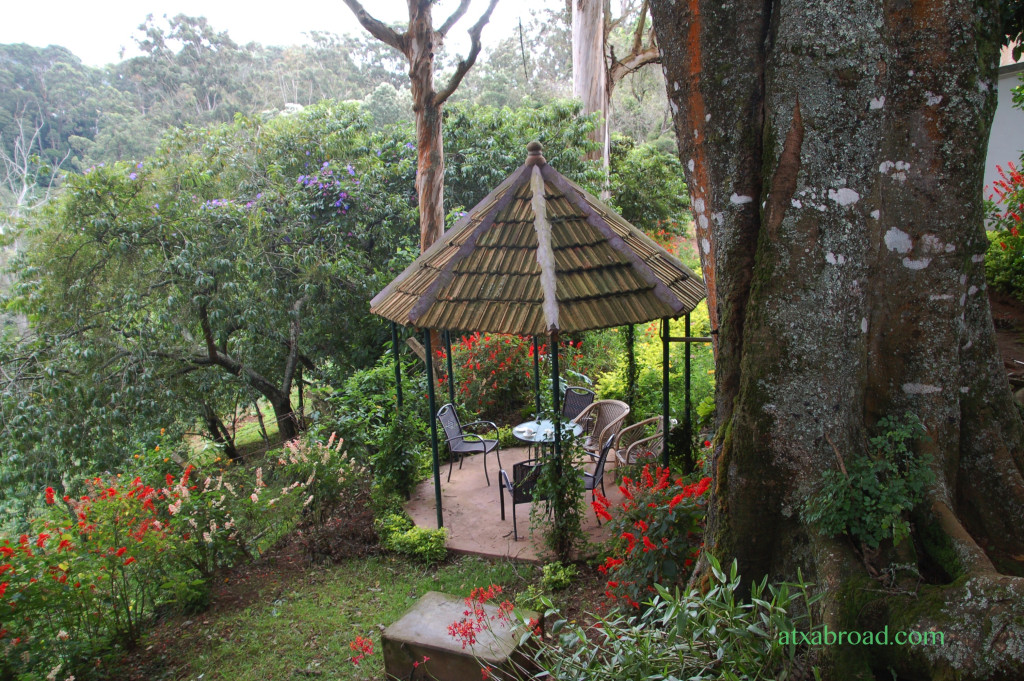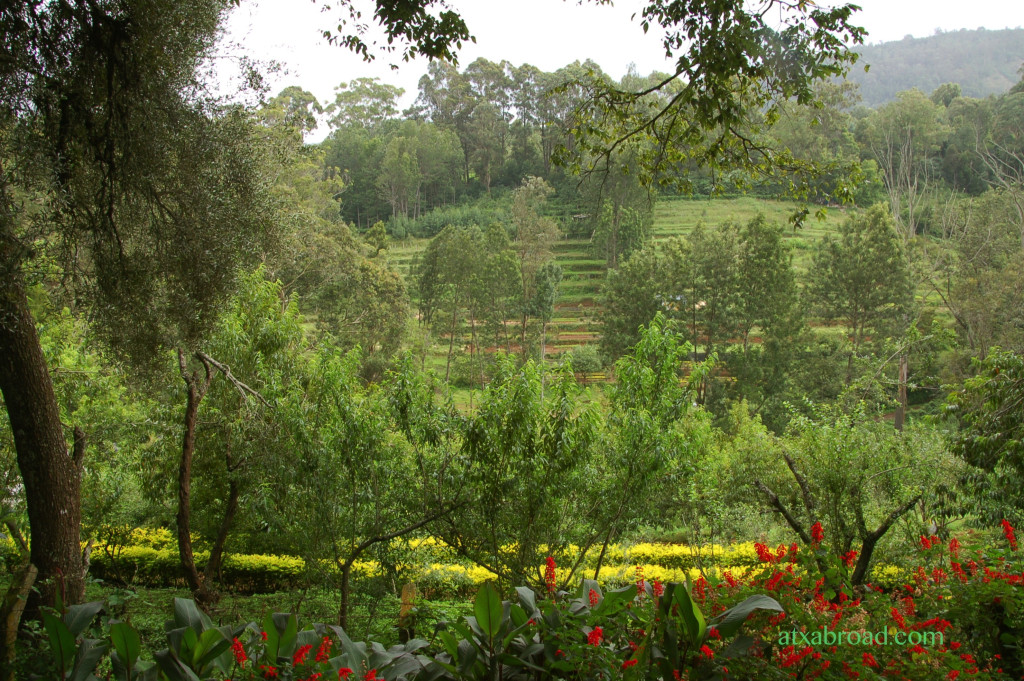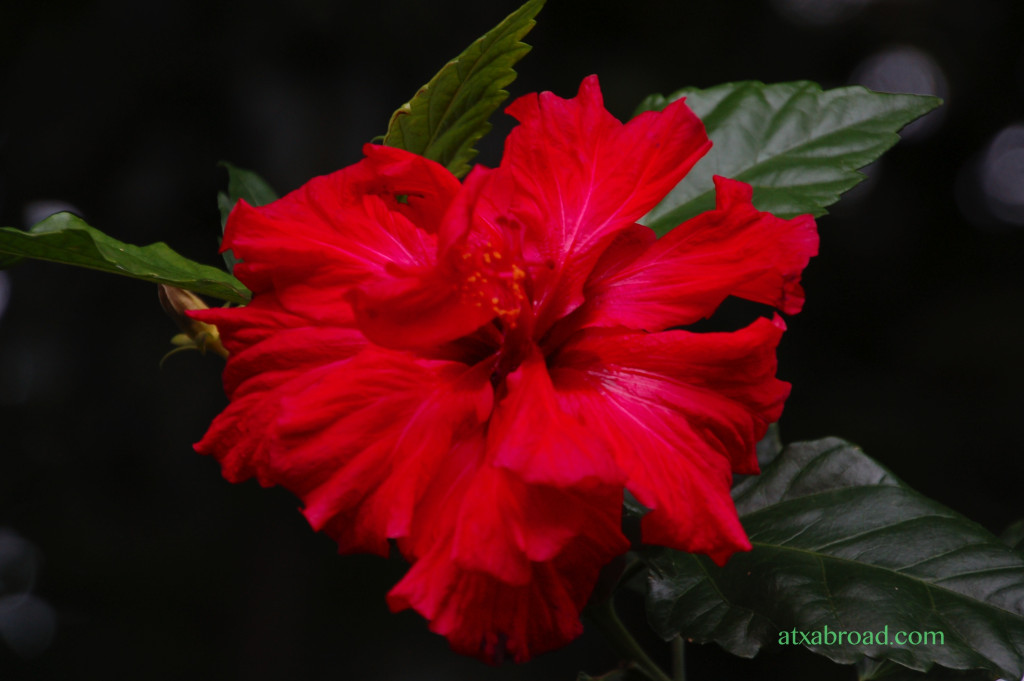 We had breakfast and dinner at the Wallwood each day.  Breakfast included fresh fruit and juice, a sample of south Indian fare, eggs to order along with other staples, all quite good.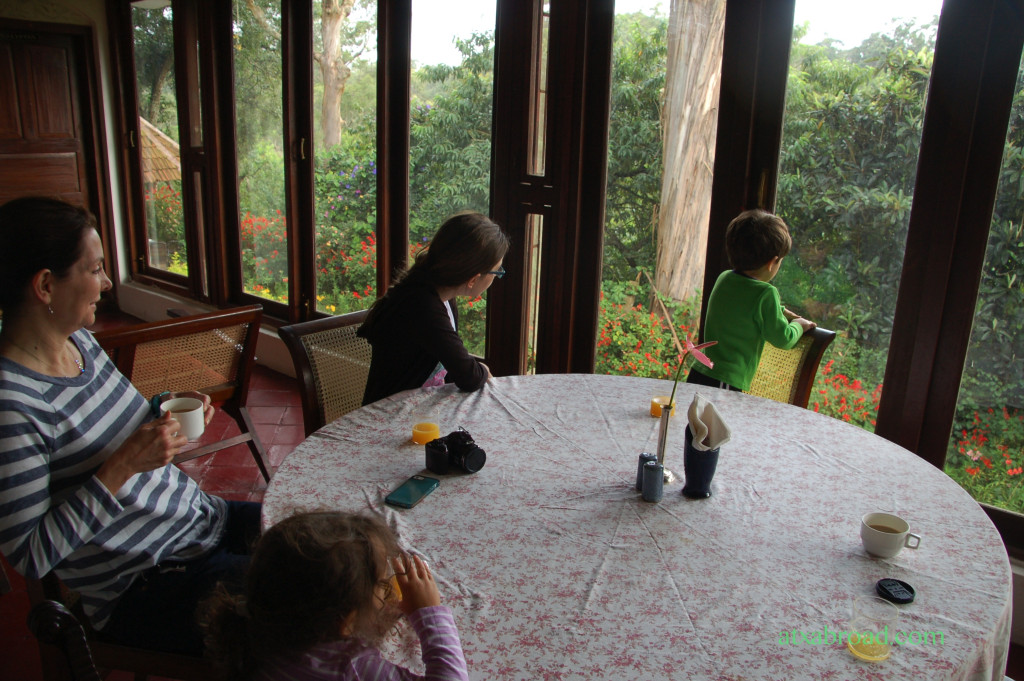 The staff admirably tried to accommodate all of our tastes at dinner.  Dinner in the common area was enjoyable and we appreciated the friendly and diligent service, including the extra and successful effort made to procure some local wine one night.  The food itself was not a highlight of our trip but that was more than made up for by the many other sensory delights of this place.
Nilgiri Mountain Railway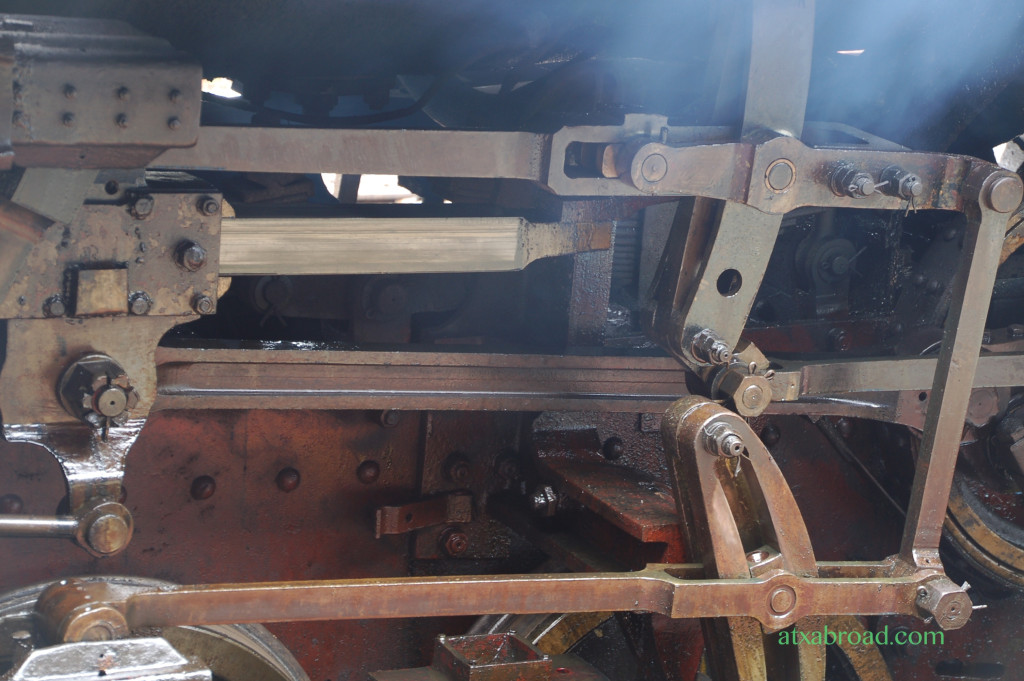 Riding the Nilgiri Mountain Railway, a UNESCO World Heritage Site, topped our agenda on this trip.  The British built the railway in 1908.  It ascends the steep mountain to Coonoor using a rack and pinion (gear) system.  We took the ride from Coonoor to Ooty which continues upward but not as steep.  We thought we wanted first class seats but ended up having a great time up close and personal with fellow passengers on the back bench of a standard fare car.  Having since ridden the Shimla railway, we decided we enjoyed this one much more.
Along the way we saw beautiful green tea and rice fields, and towering peaks and expansive green valleys.  Not mountains that rise straight into the sky like the Wasatch or Rockies, these were more rolling high hills and green all the way to the top (Coonoor itself sits just over a mile above sea level).  And we met lots of nice fellow passengers.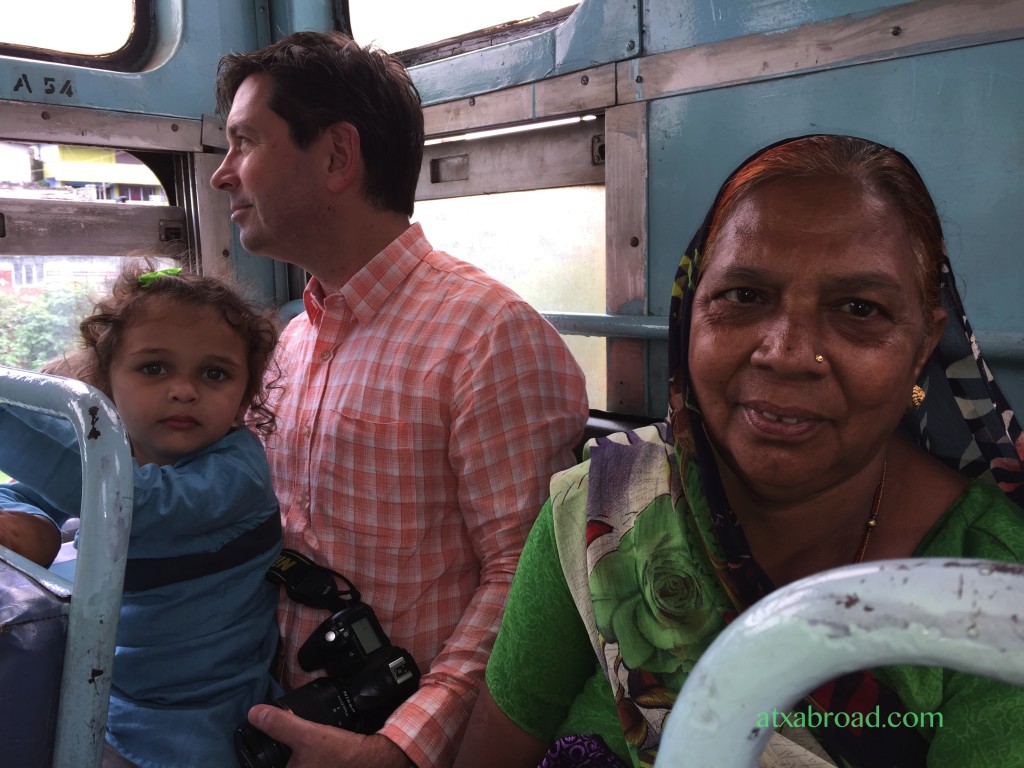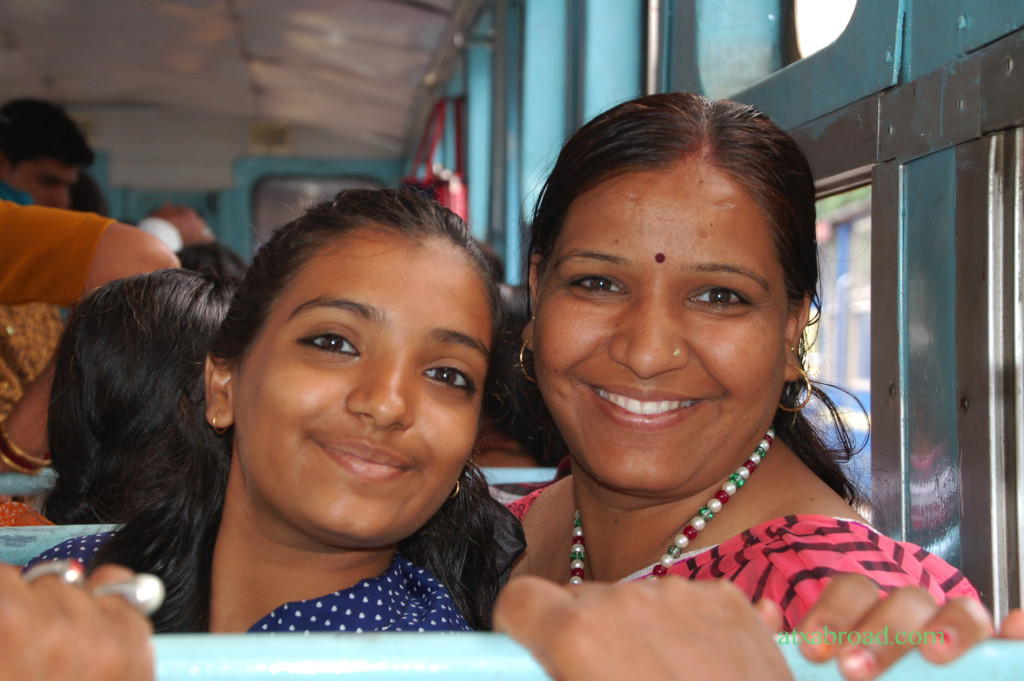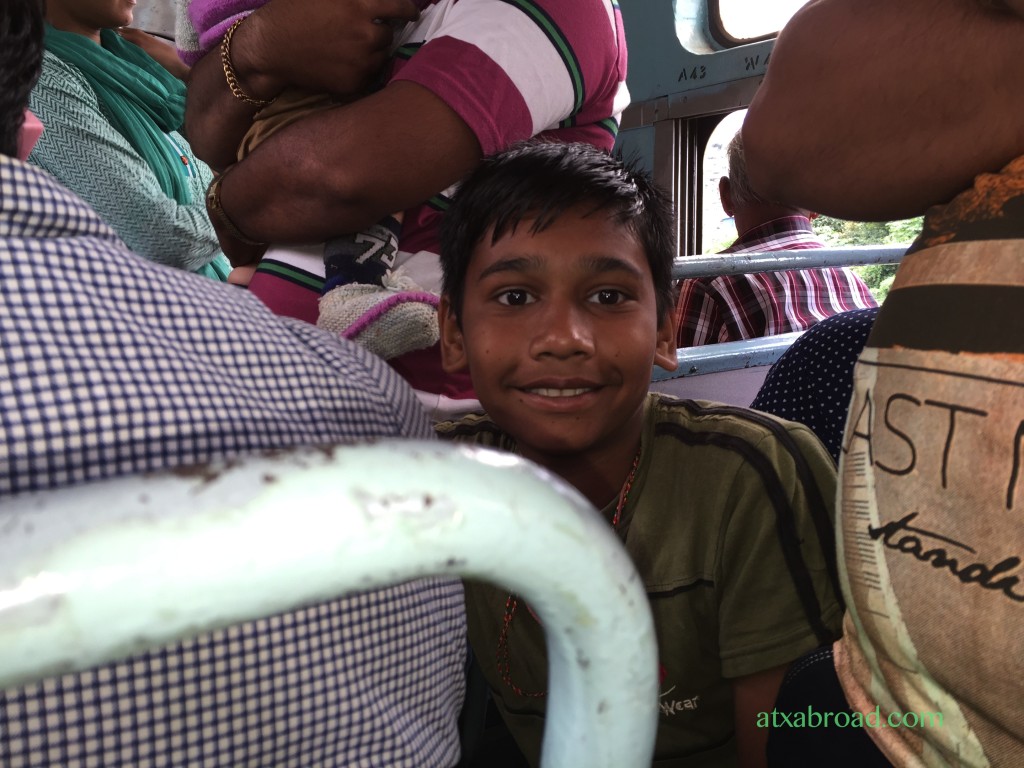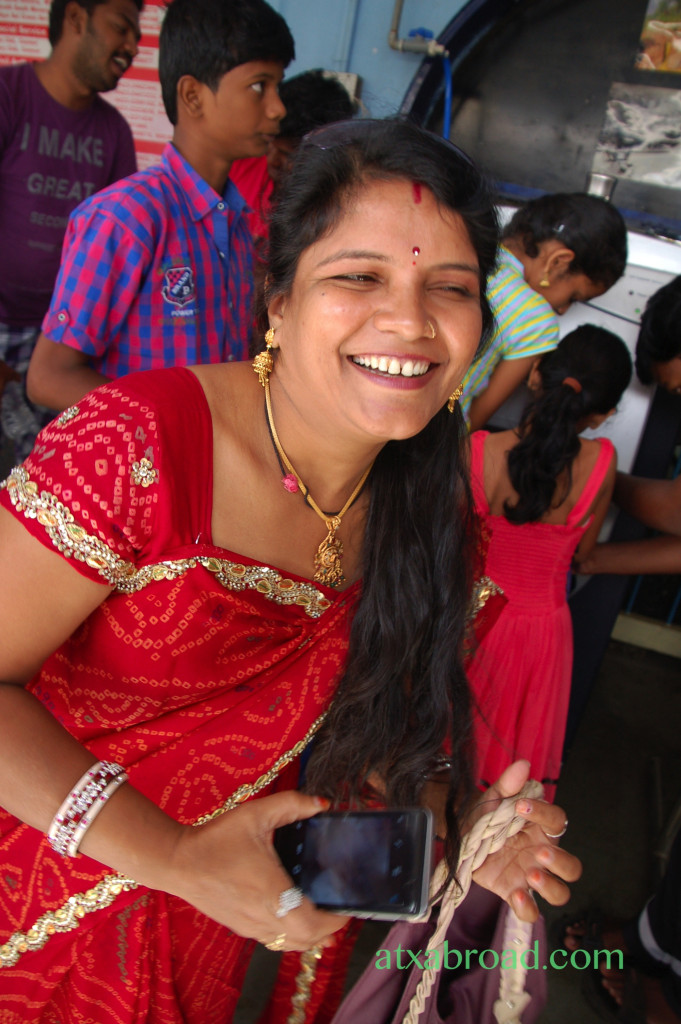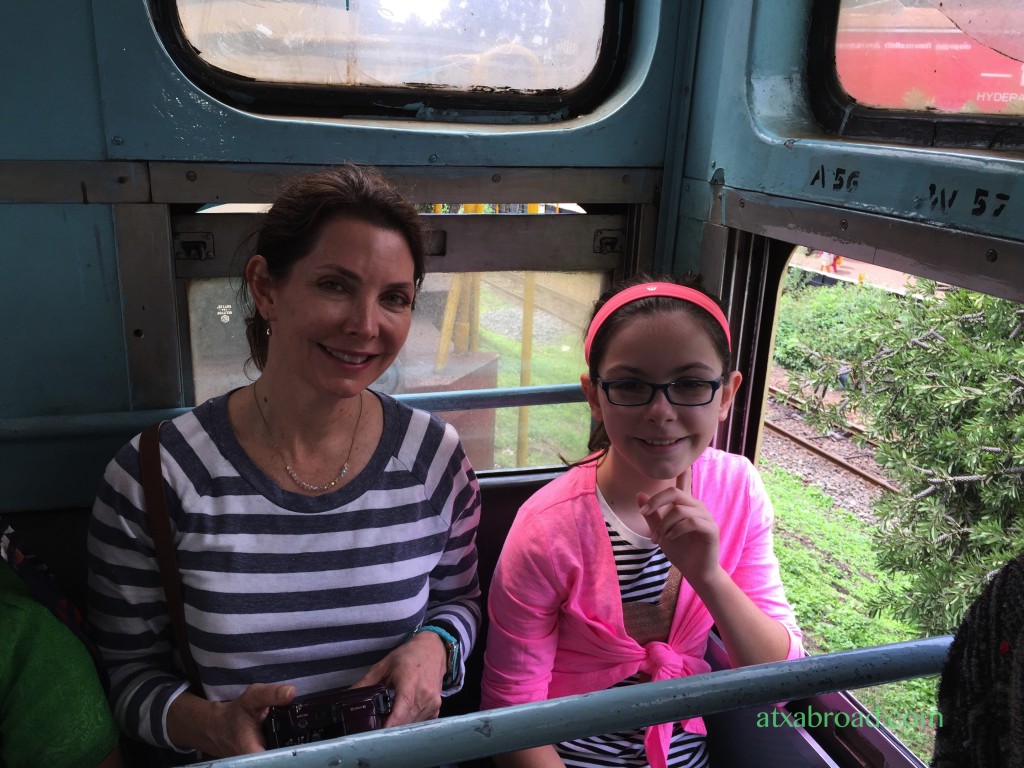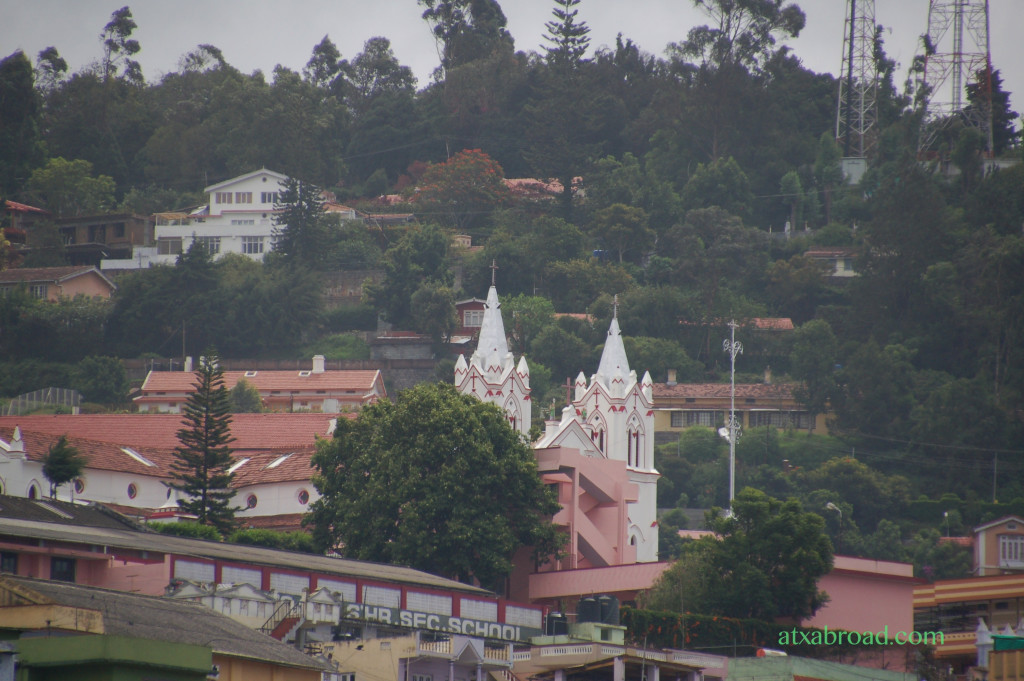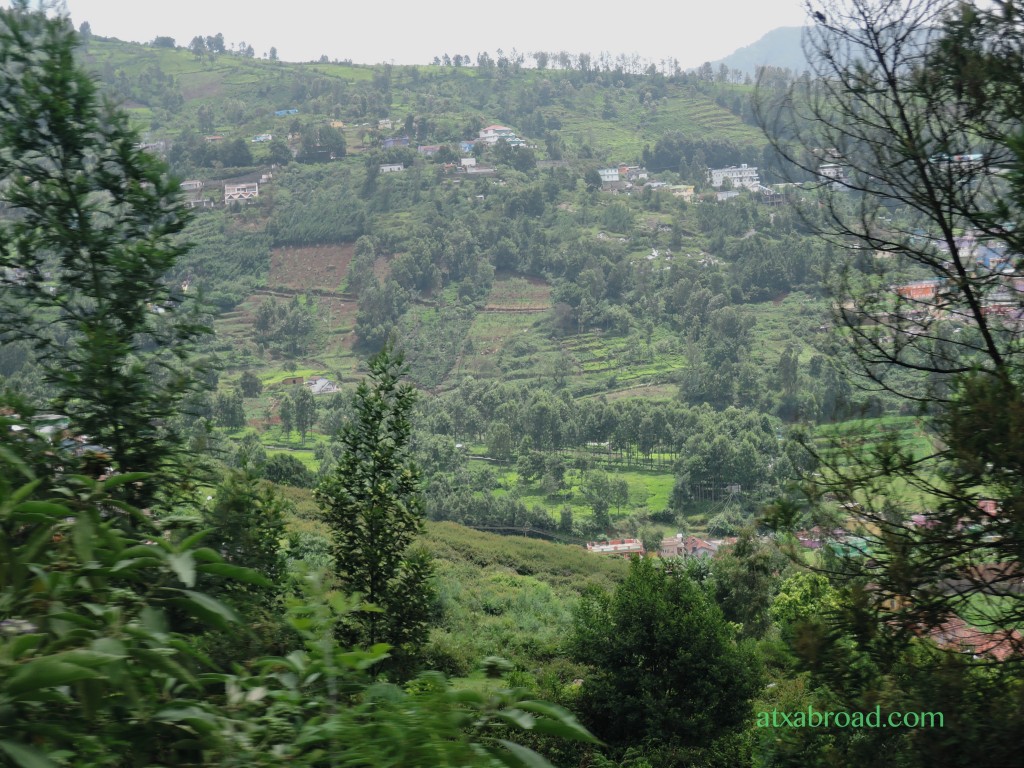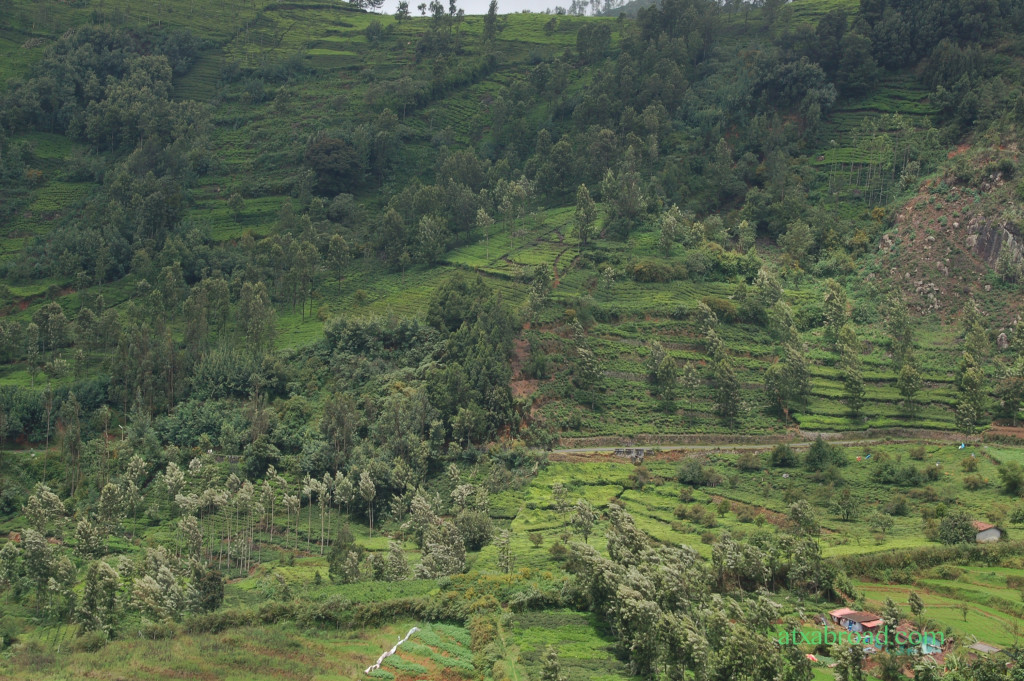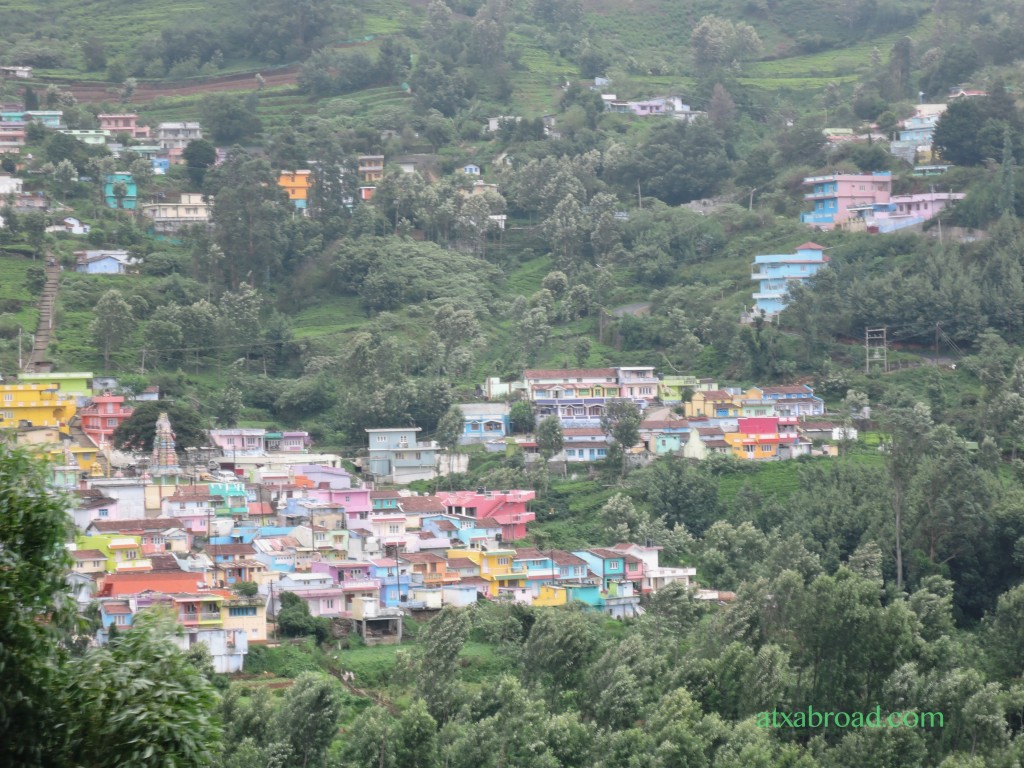 Everyone cheered when we went through the tunnels.  It was a fun ride.   When we got to Ooty we were pretty hungry, but decided to walk through the Botanical Gardens before lunch.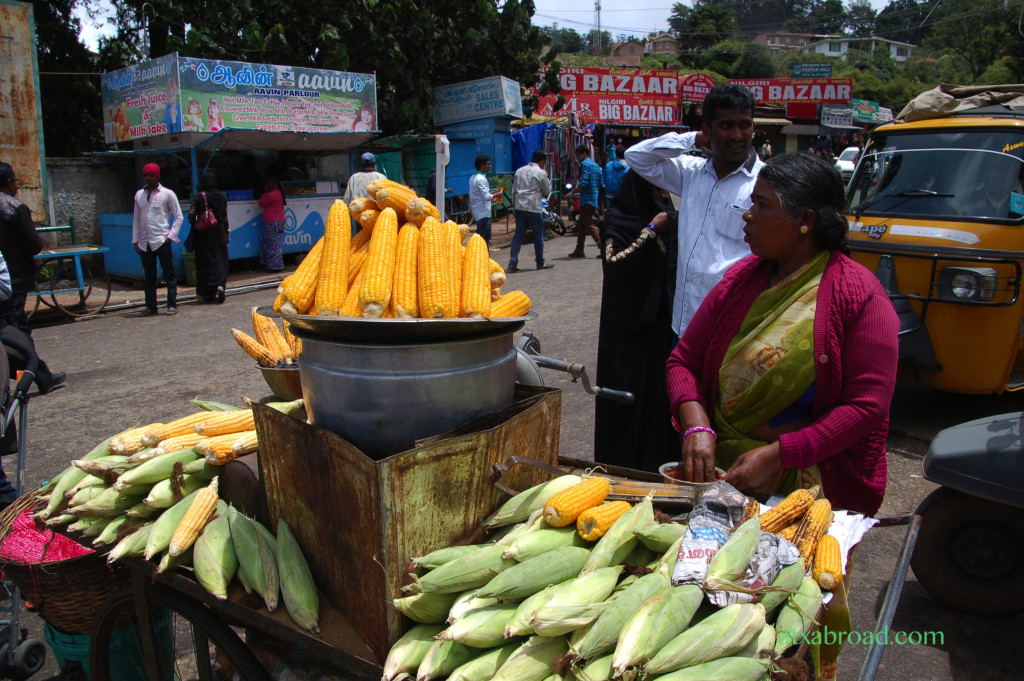 We found a woman roasting corn right outside the gates, unfortunately it looked much better than it tasted.  Worth a try, though, and we had very friendly service.   To the left of the big bowl of cooked corn is a hollow-bottom bowl sitting over a bed of coals, where she put the corn after we ordered, then turned the hand-cranked blower on the right to heat up the coals, and there you have it – made to order roasted corn.  A pretty good setup.
It rained lightly on and off during our walk through the garden, which added to the atmosphere, until it really started to pour at the end.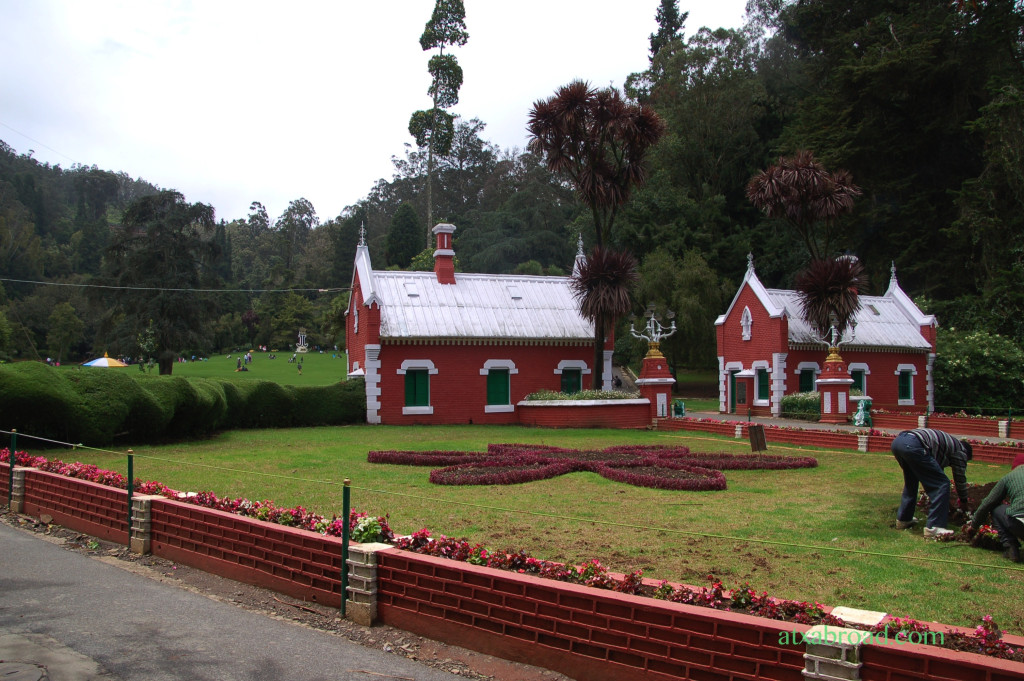 The Garden has a fossilized tree trunk estimated to be 20 million (!) years old.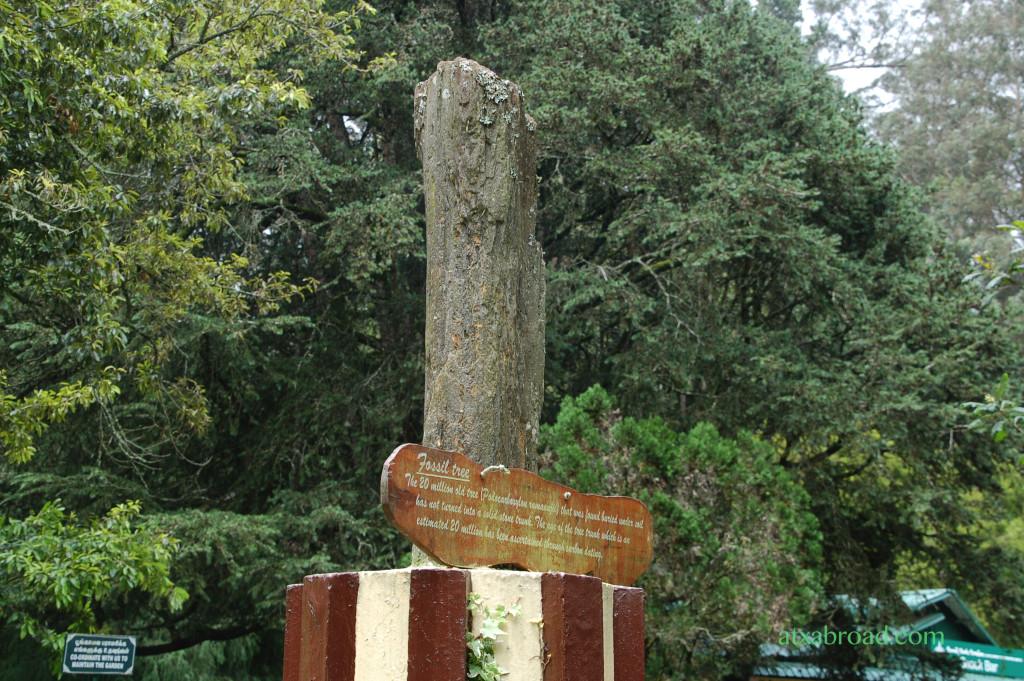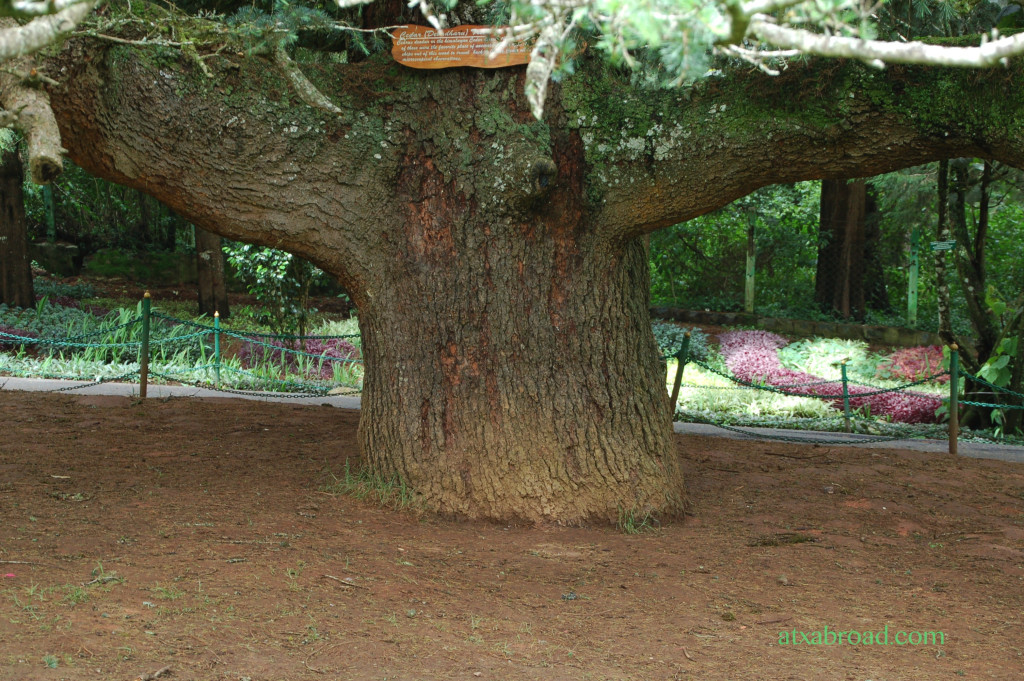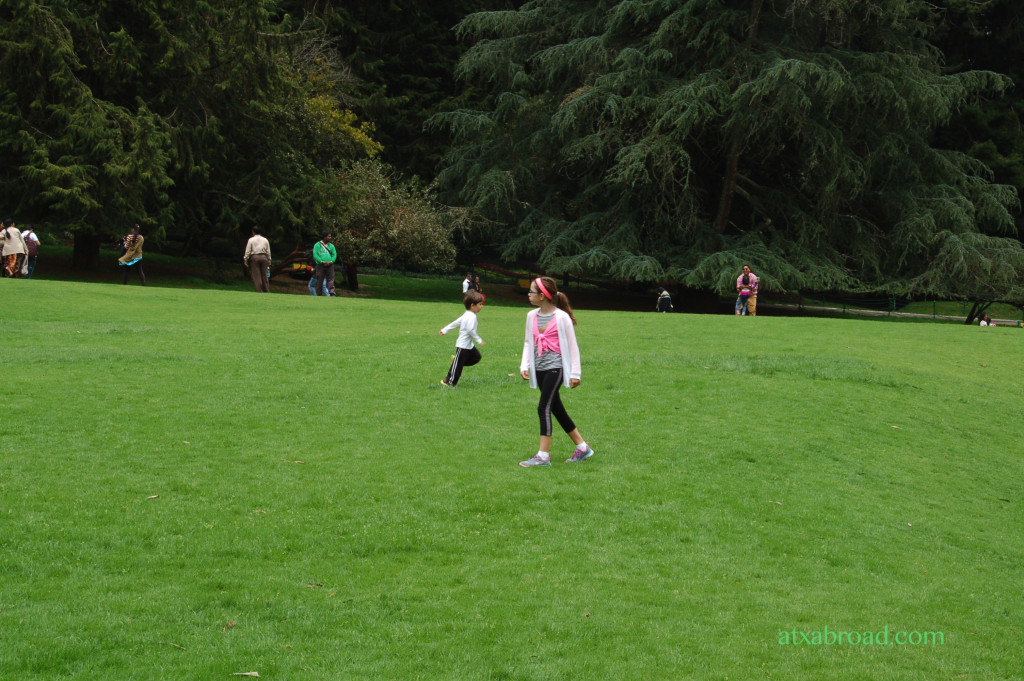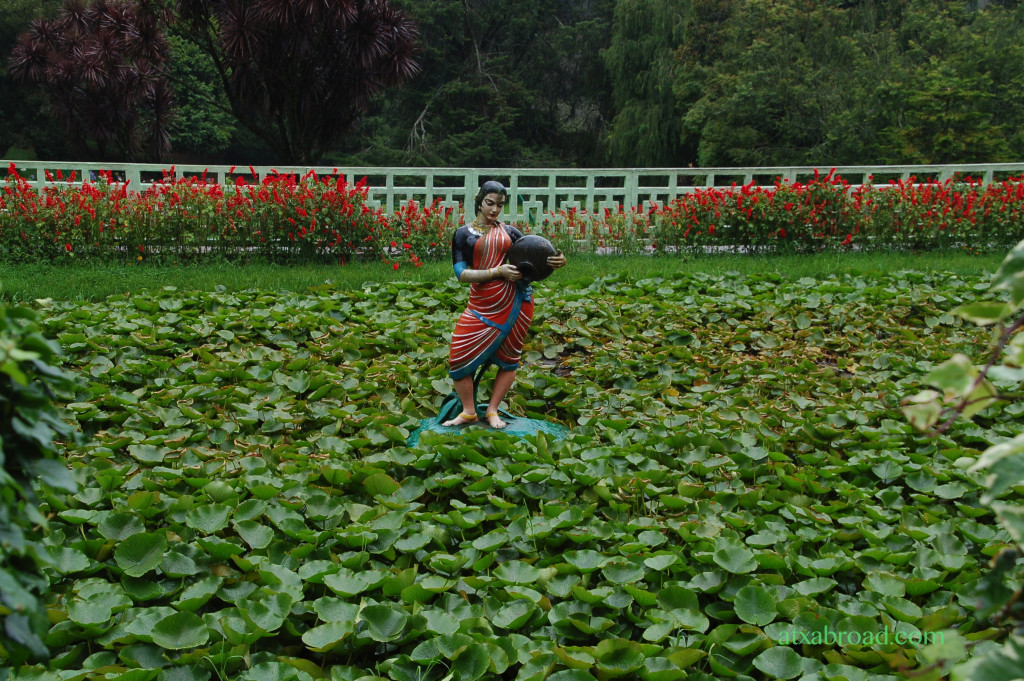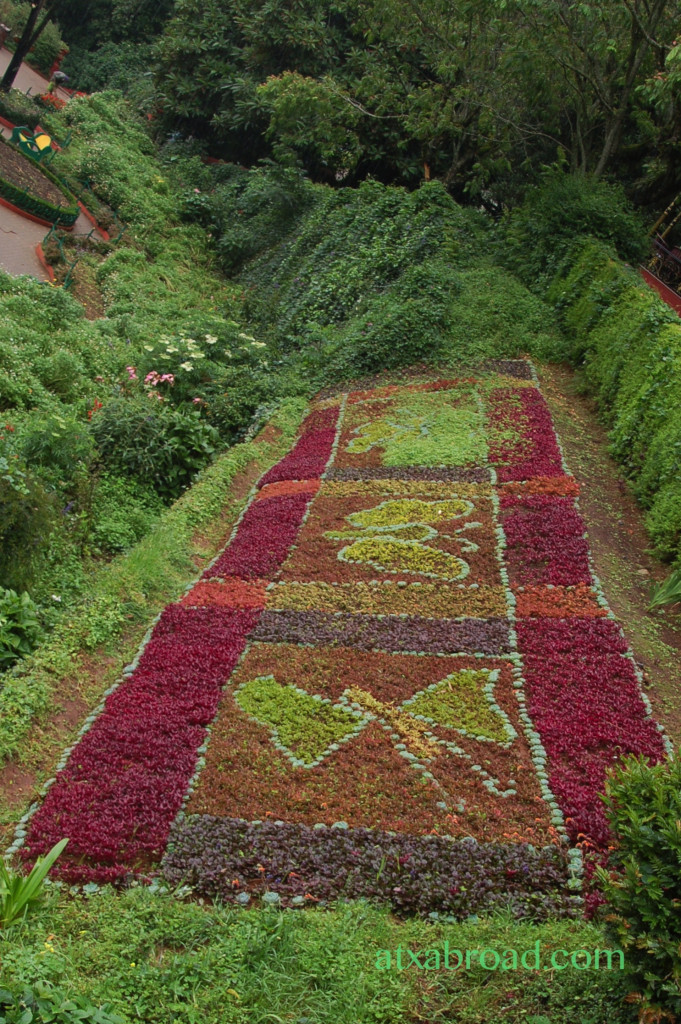 After the Gardens we had lunch then went to a tea museum and factory.  We watched the tea making process, beginning with the raw harvested leaves to the final product sealed in a bag destined for sale.  I learned a lot about tea.  I even got very excited about tea.  But hard as a try I remain firmly a coffee person.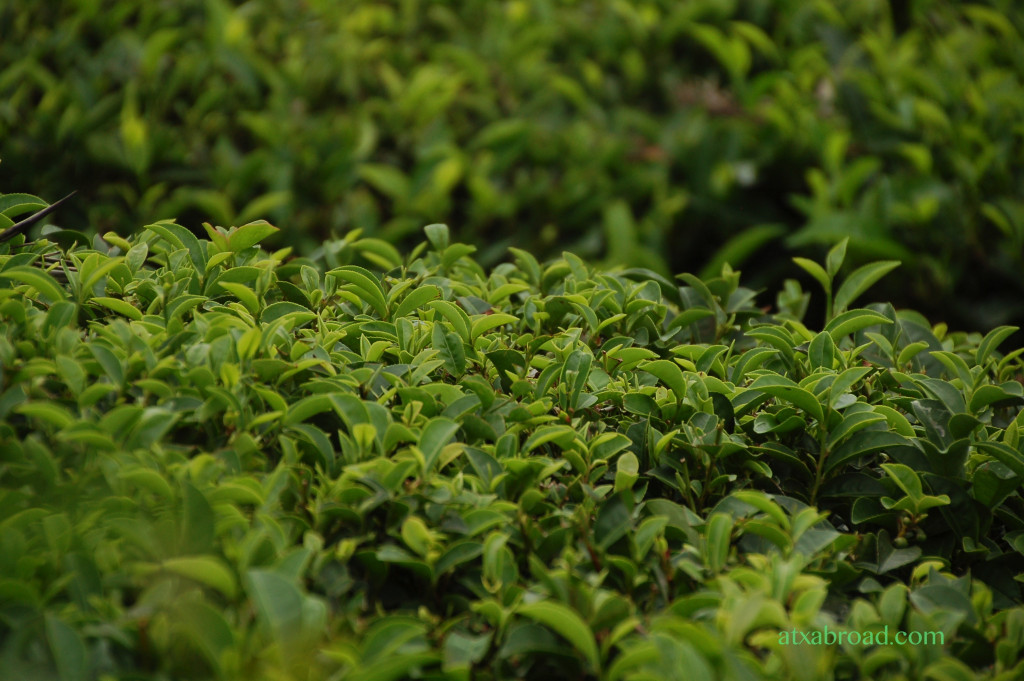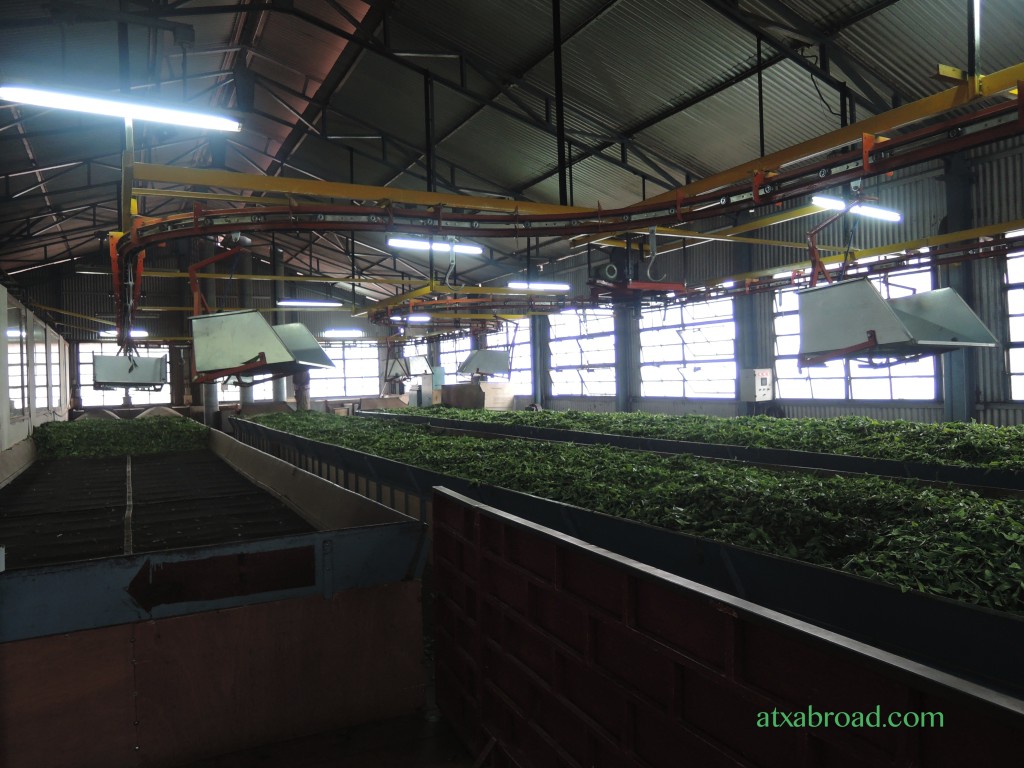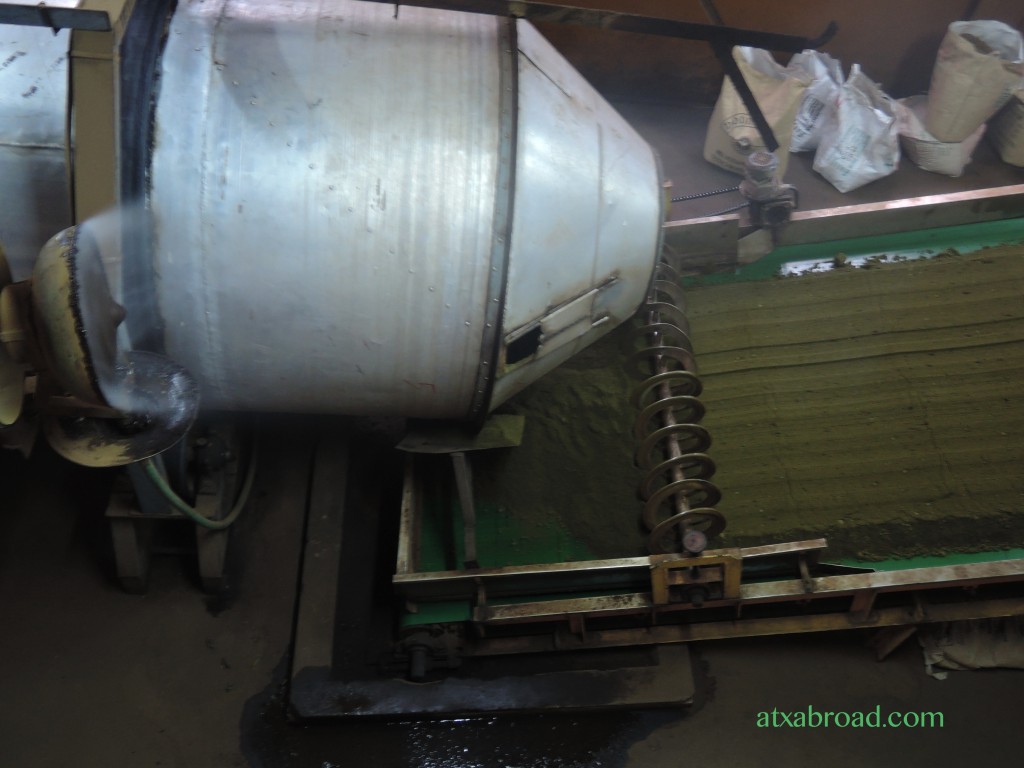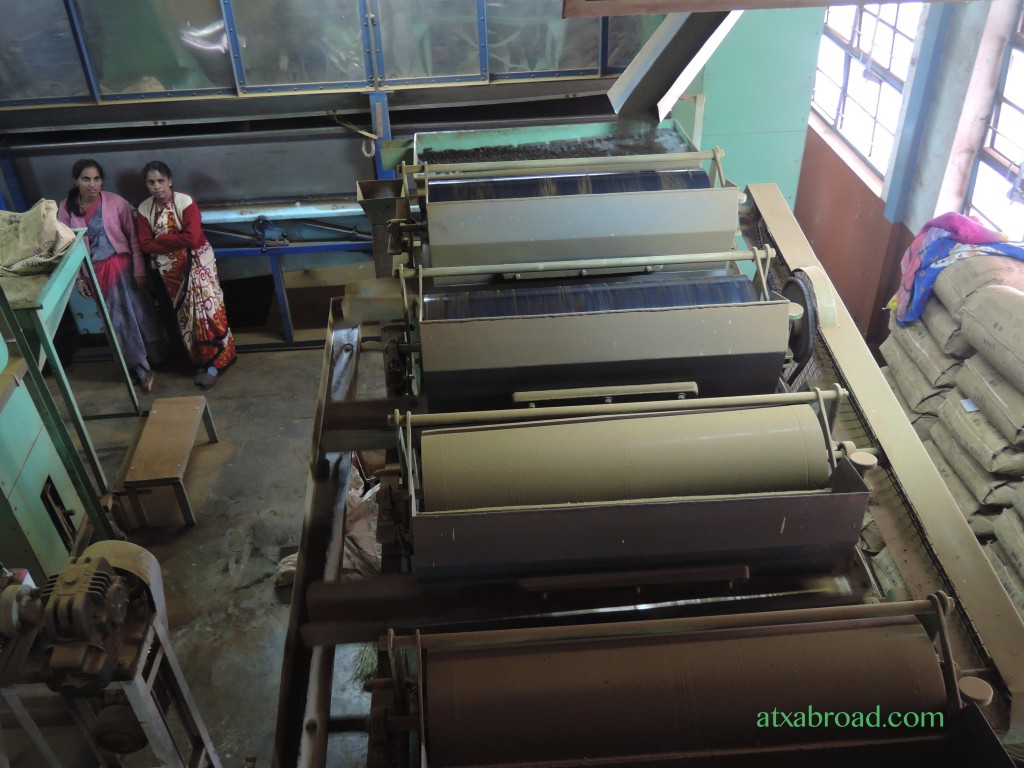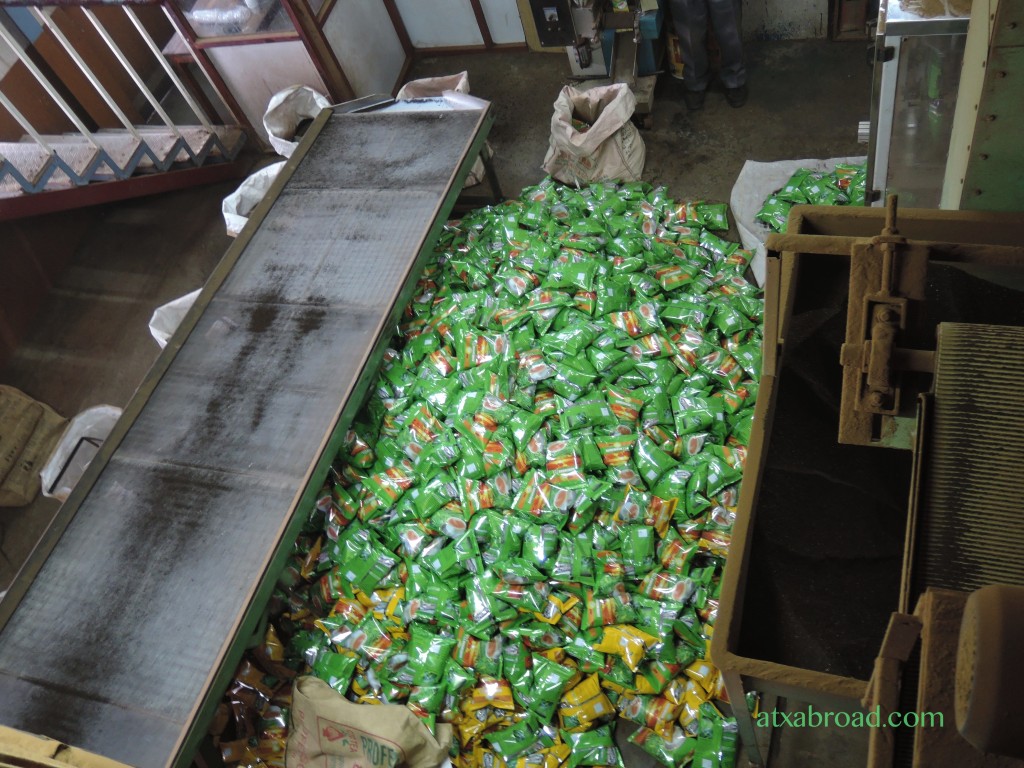 We sampled some tea and left with lots of tea: white tea, cardamom tea, tea types I had never heard of.  Almost a year later we are still drinking it.  Then we stopped at the confectioners store for locally made chocolate which tasted pretty good.  When leaving, we were struck again by the beauty of this place.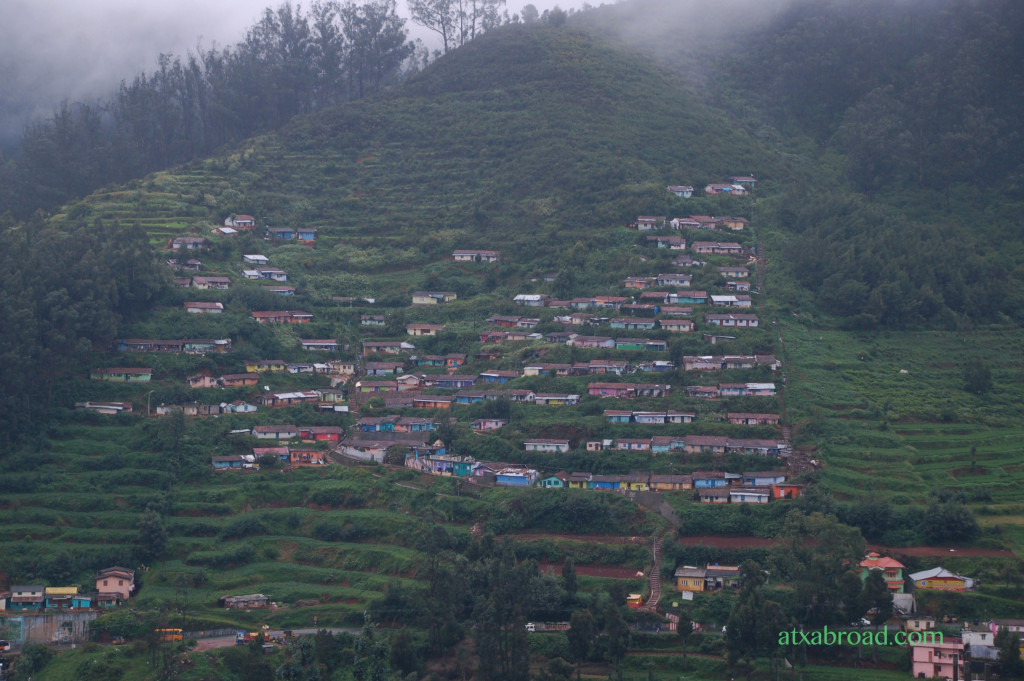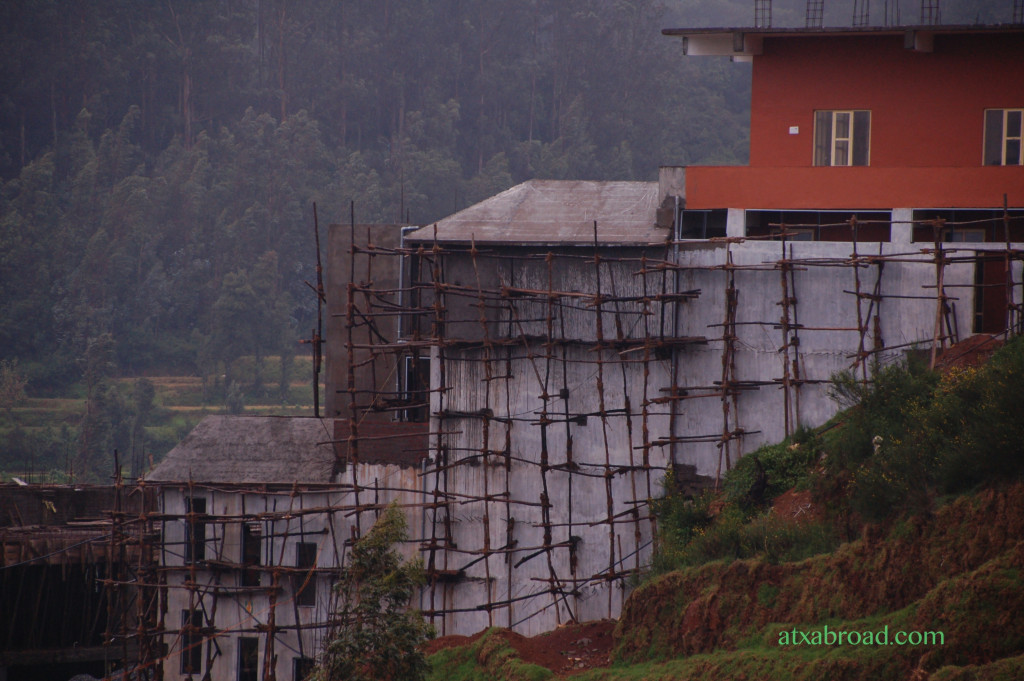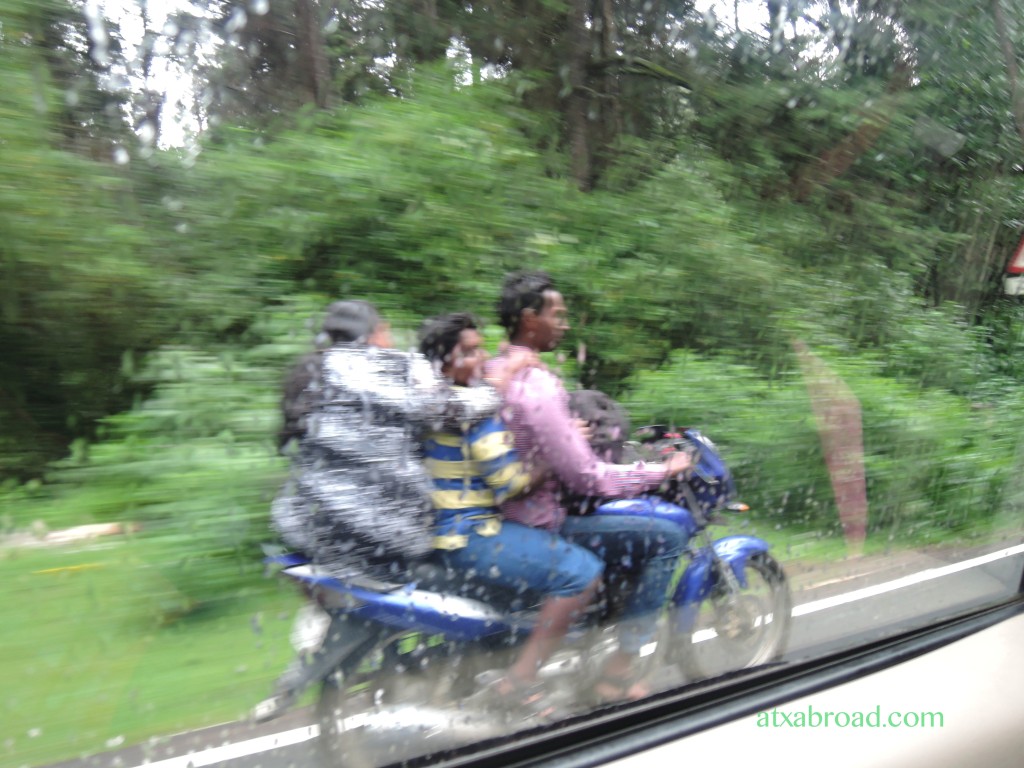 The next day we spent in Coonoor.  After breakfast we went to the nearby Sims Park, a beautifully terraced space full of flowers, ponds and walking paths.  We actually got lost in this botanical wonderland at one point.  I have mentioned elsewhere that walking is one of the things we miss the most in Chennai, so we really appreciated the opportunity to walk around here.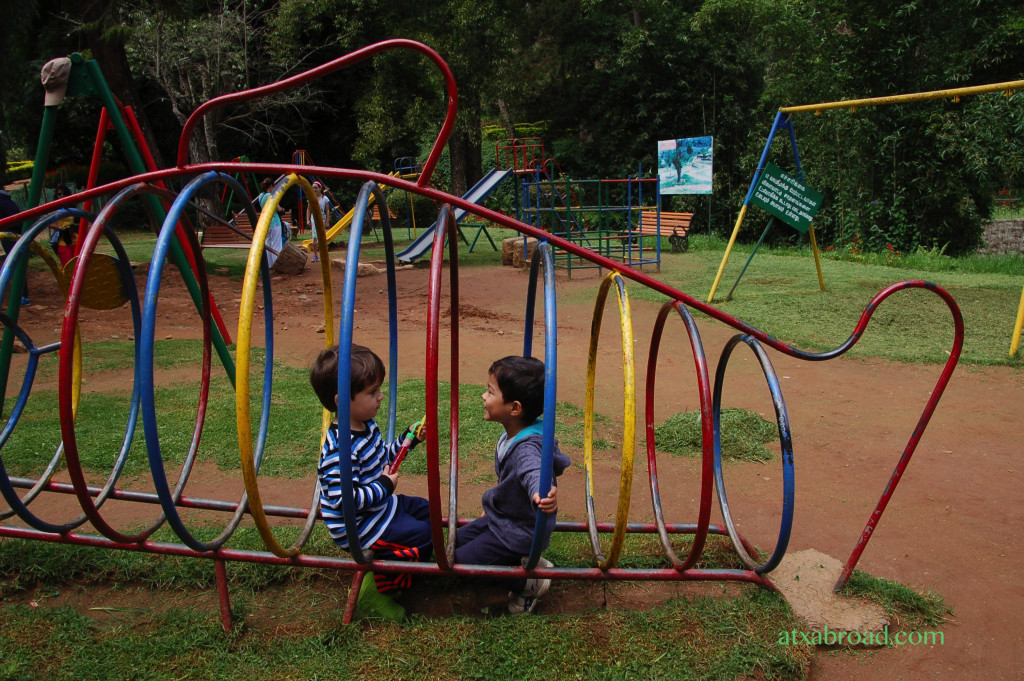 Later on that day we checked out the open market.  This one was much like others we had been to, but always interesting.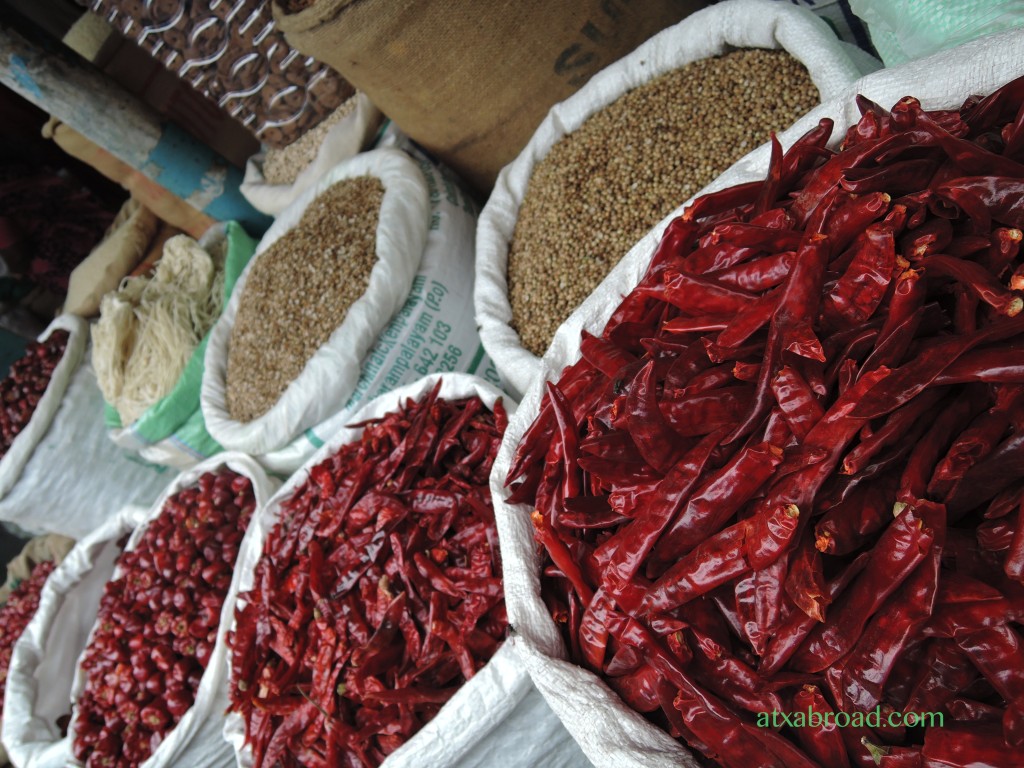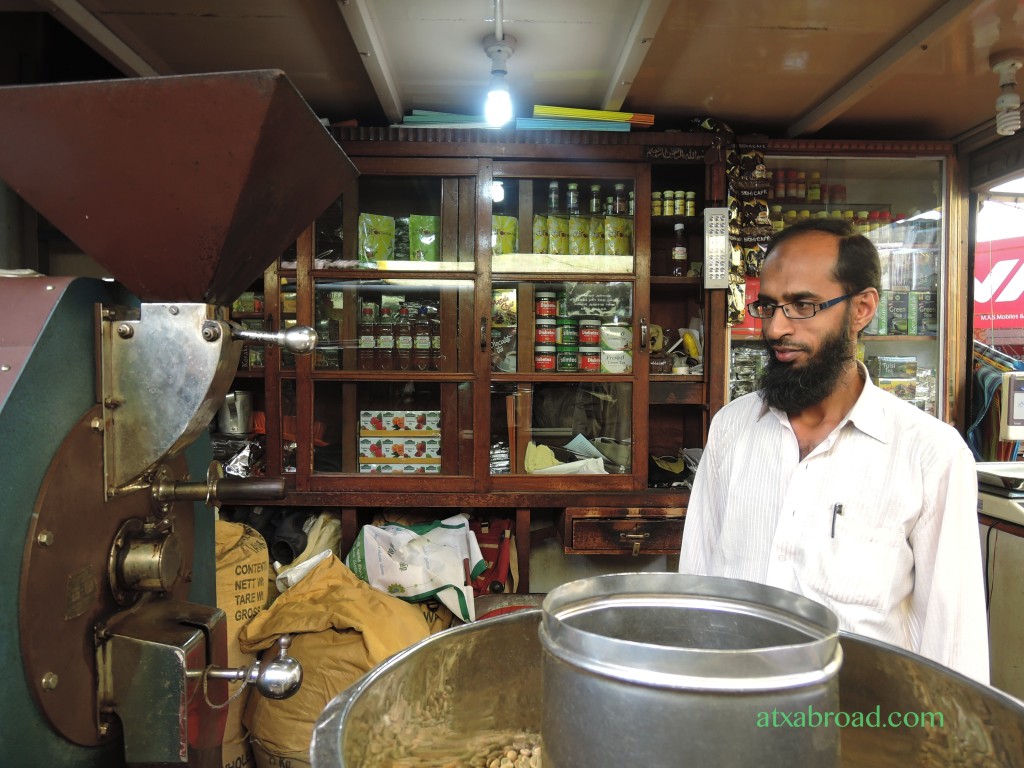 Then we went for lunch, this looks really good to me right now.
Our next adventure happened back at Wallwood Garden.  We had picked up some cashews and brought back leftovers from lunch.  Then some familiar visitors showed up.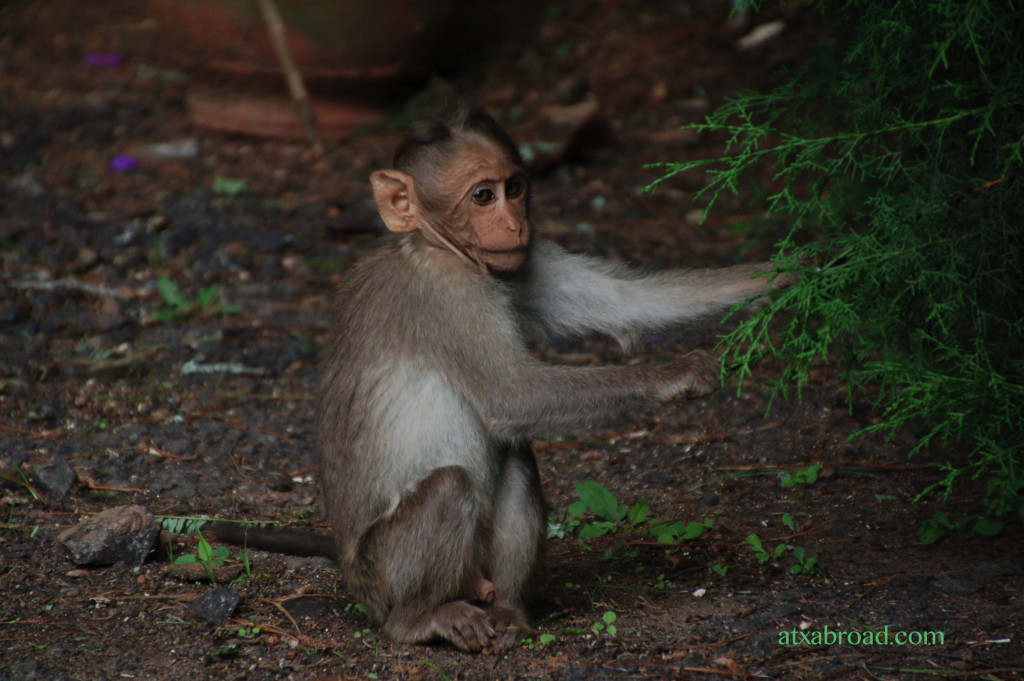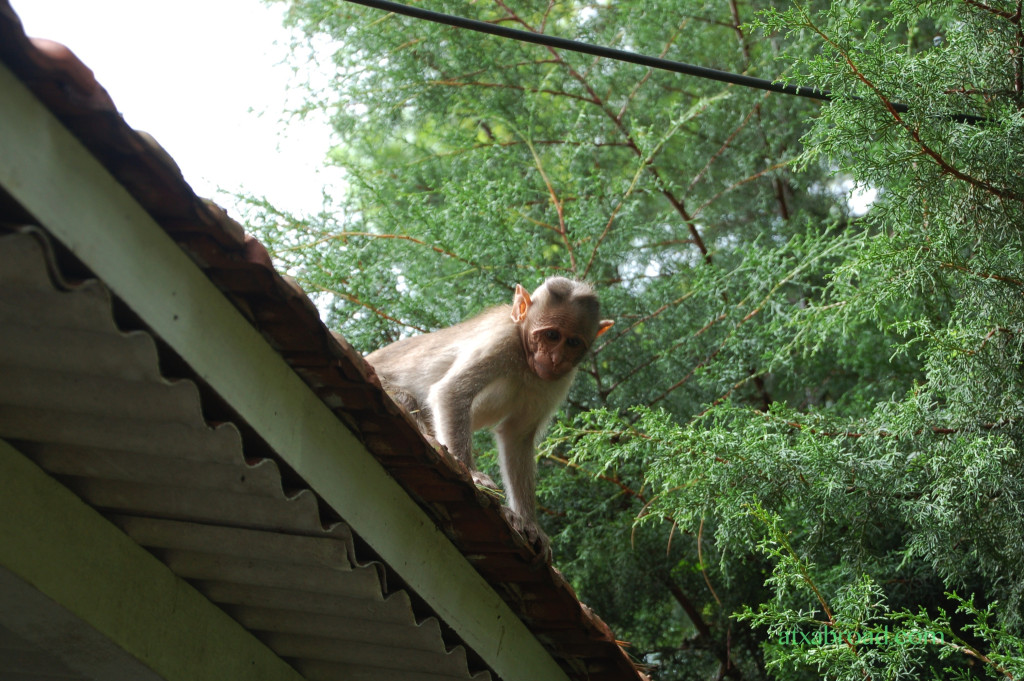 As we were cooing at the cute monkeys, suddenly out of nowhere one of them dashed into our room, grabbed our new container of cashews, and so gracefully leapt back up onto the rooftop.  A clean grab.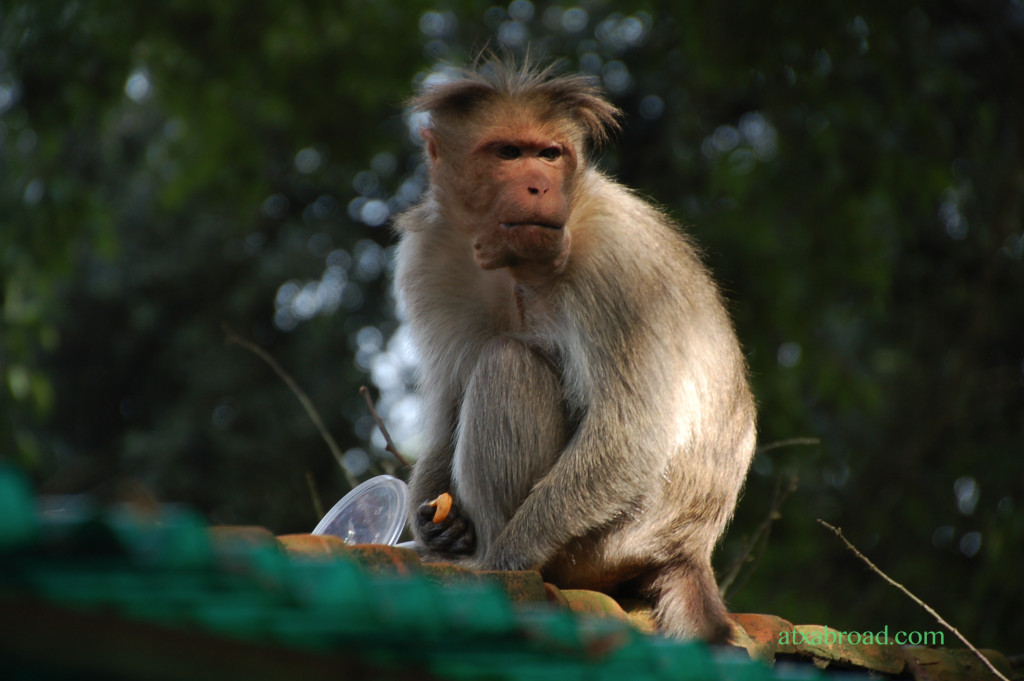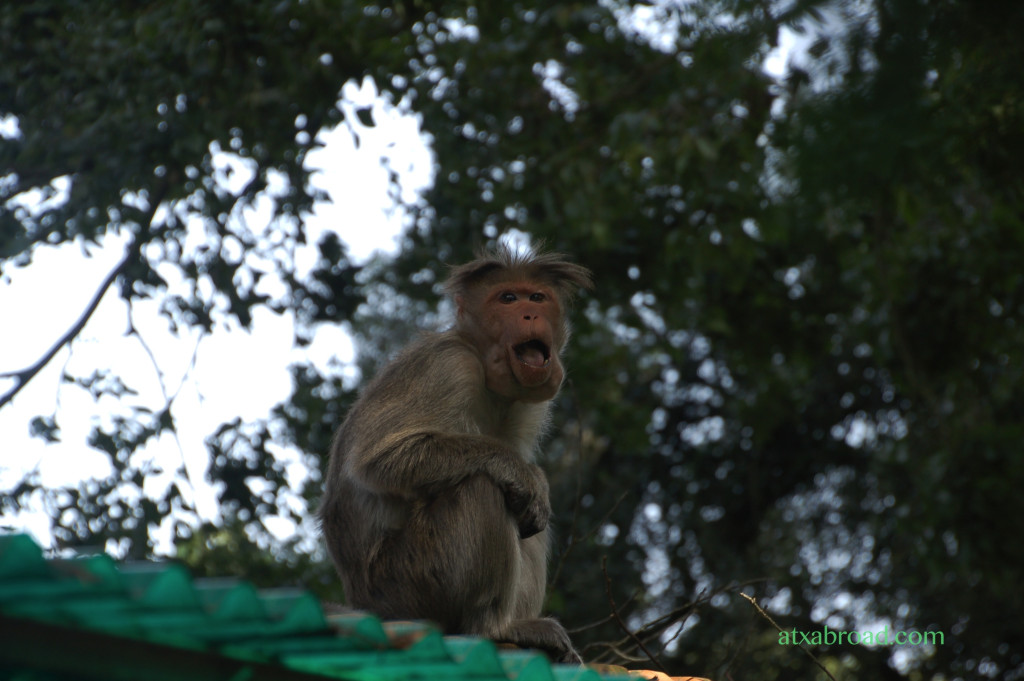 As we stood outside having a laugh at ourselves and the monkey, wondering how we let that happen, our two year old daughter squealed from inside "He's RIGHT HERE in the room!  He's eating my NOODLES!"  I sprinted inside to find a monkey about the size of my daughter, not five feet away from her, indeed helping himself to the take-out container of noodles.  After jumping in between the monkey and my daughter he took off, but not before grabbing the package of naan that had been next to the noodles.  This one did not even move away from our front door to finish eating.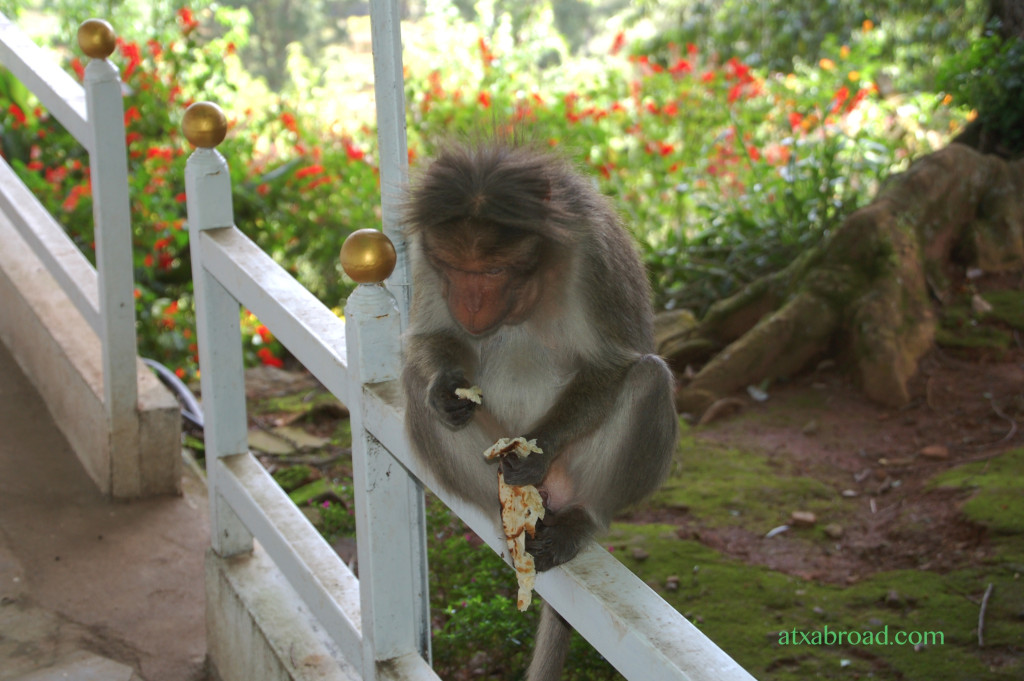 After that we figured out that we should close and fasten the shutters on our windows, which we did somewhat reluctantly because of the nice weather.  And just a PSA on monkeys, we were very, very lucky that these were not aggressive and what ended up being a funny story could have been a bloody disaster.  Everybody needs to be very careful when living alongside the monkeys.  Fortunately we had learned this by the time we were among the aggressive monkeys in Shimla (but then somehow lapsed on this in Langkawi).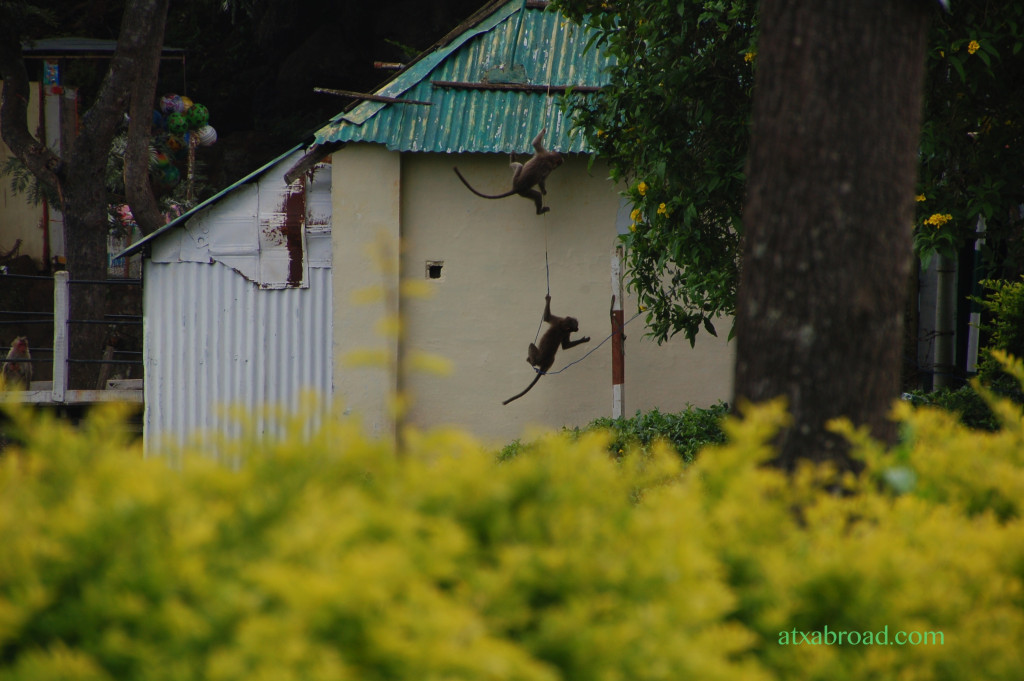 On the last morning of this trip we drove to Dolphin's Nose, a scenic overlook of the mountains which offered a fantastic view of Catherine Falls.  But first, we happened upon a place on the way that produced eucalyptus oil from the abundant eucalyptus trees in the area.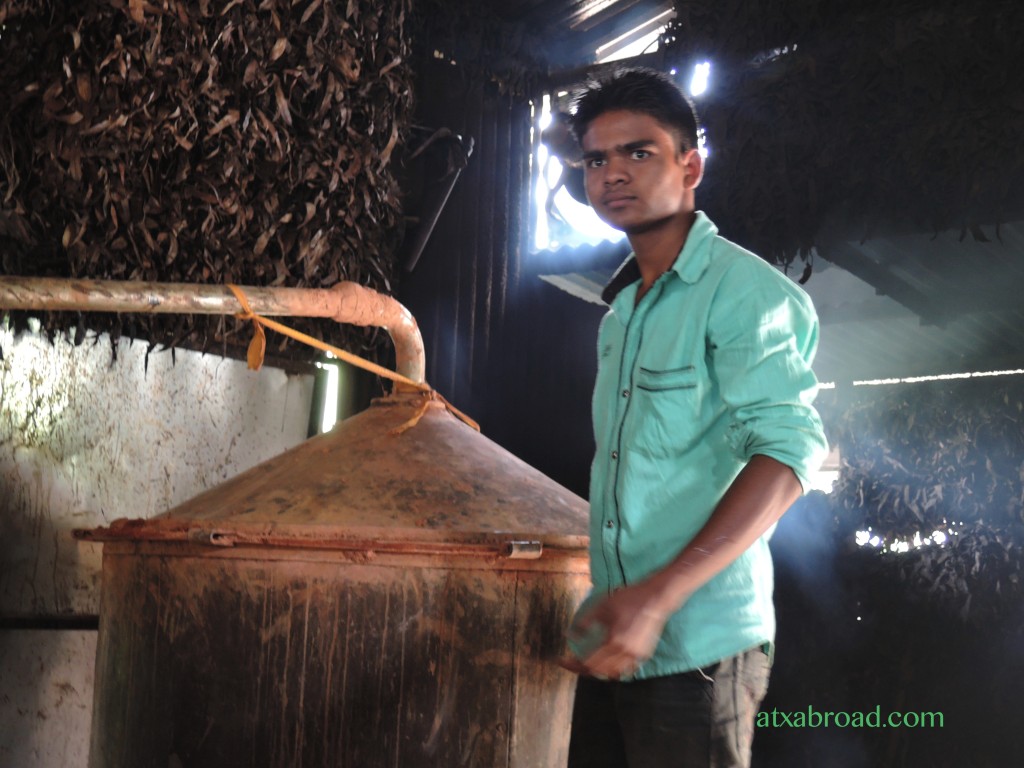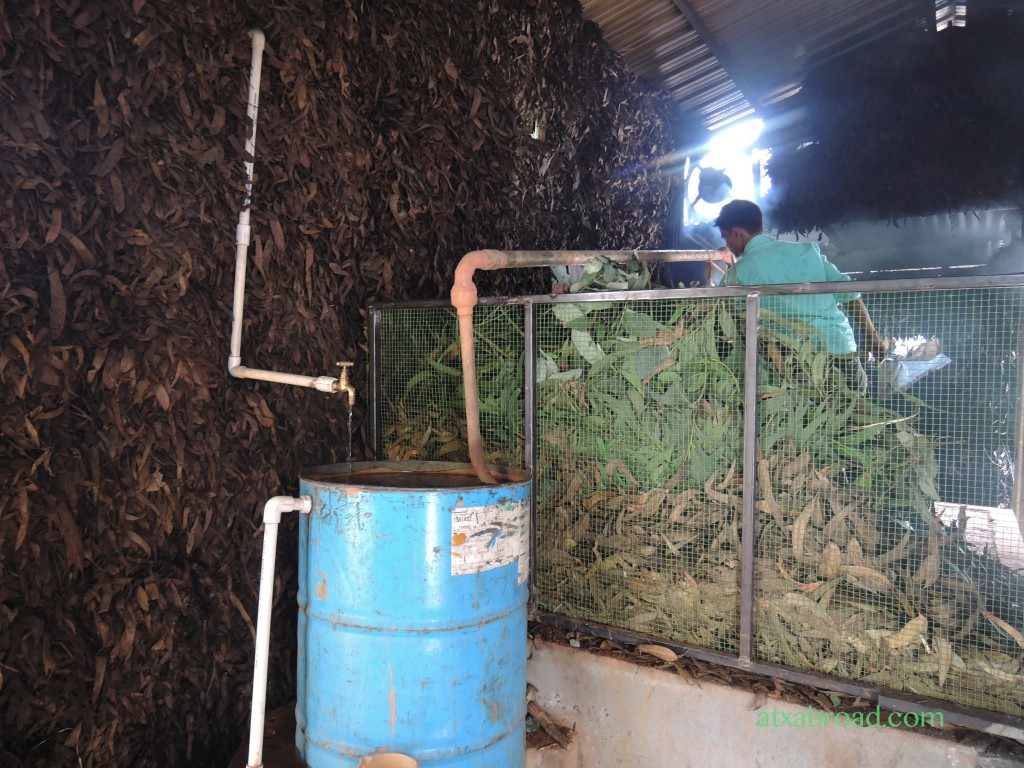 How lucky – I love eucalyptus.  Even the walls of this place were made of dried eucalyptus leaves.  And to say that good deals were offered on the final eucalyptus oil product would be a huge understatement.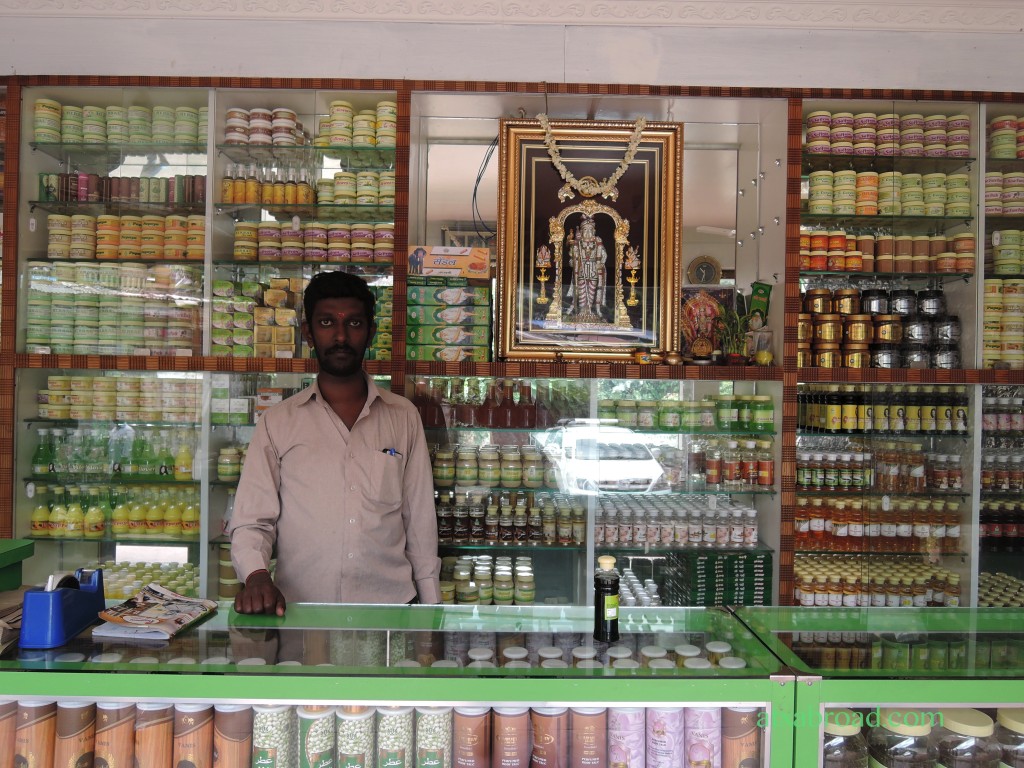 The shop next door, in addition to selling eucalyptus and other essential oils, sold a wide variety of ayurvedic and other herbal preparations, along with spice mixes and more local chocolate.  Like moths to a flame…after this trip we are in good supply of lemongrass, clove, wintergreen, eucalyptus, and citronella oils.
Back to Catherine Falls.  The drive itself was a treat.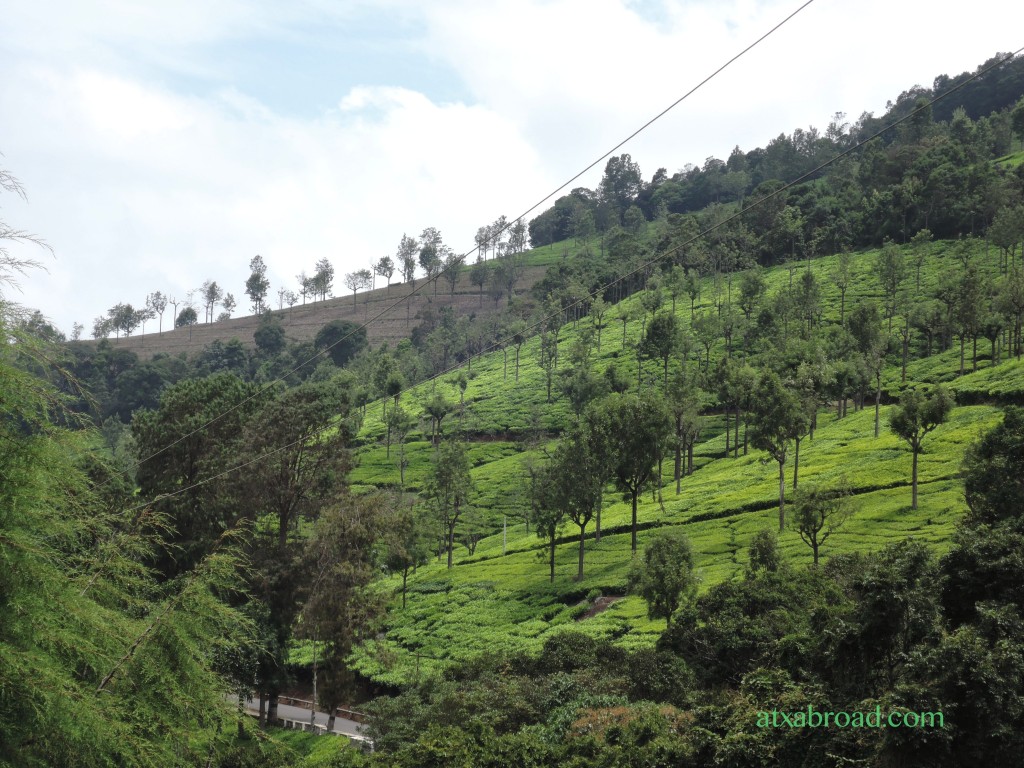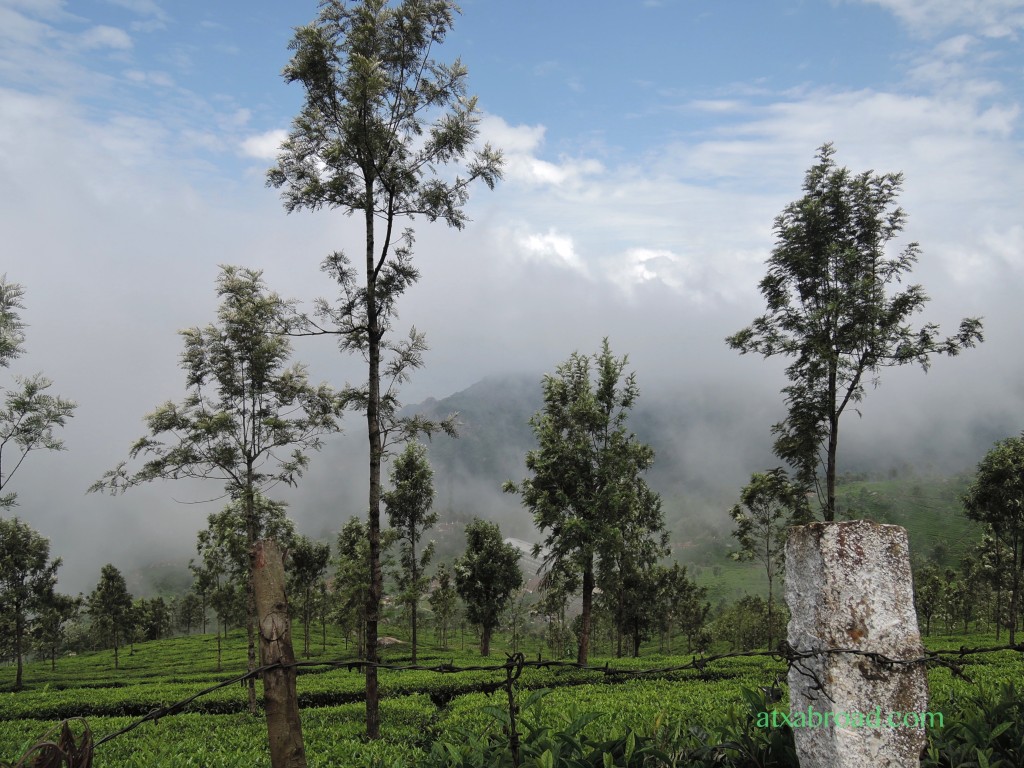 At Dolphin's Nose we could see Catherine Falls in the distance.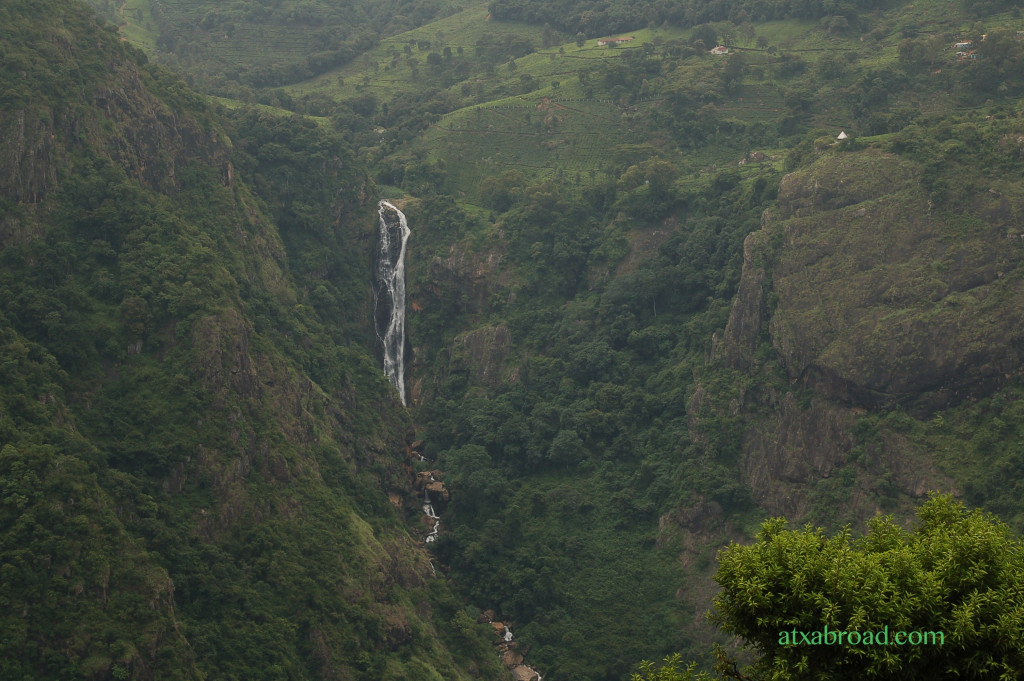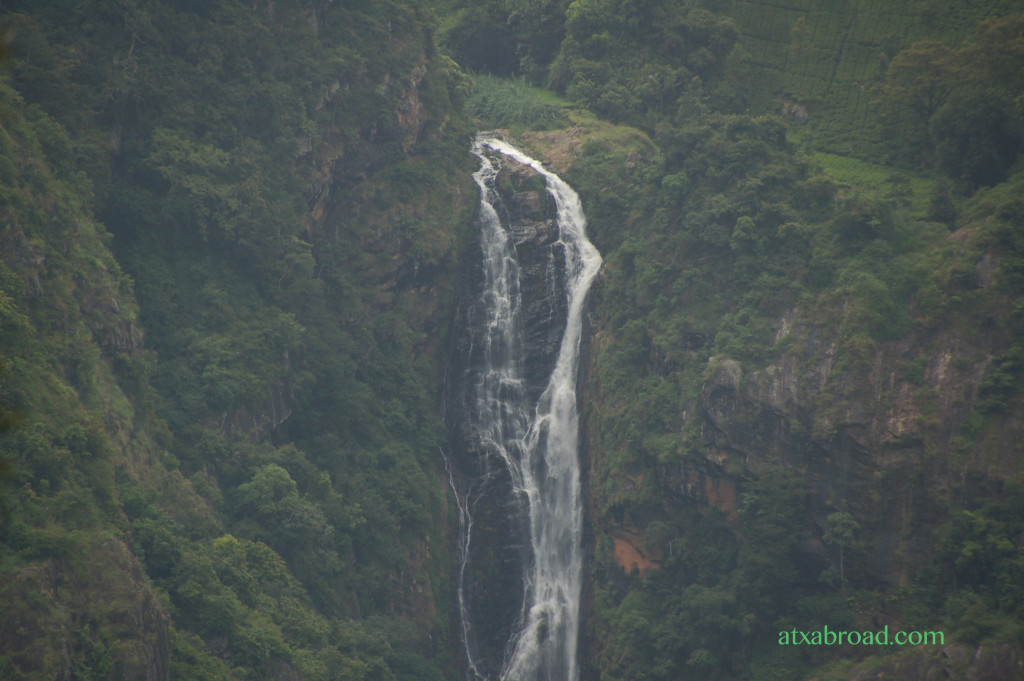 Check out the cultivated land in the top right corner of the close-up (above).  Amazing!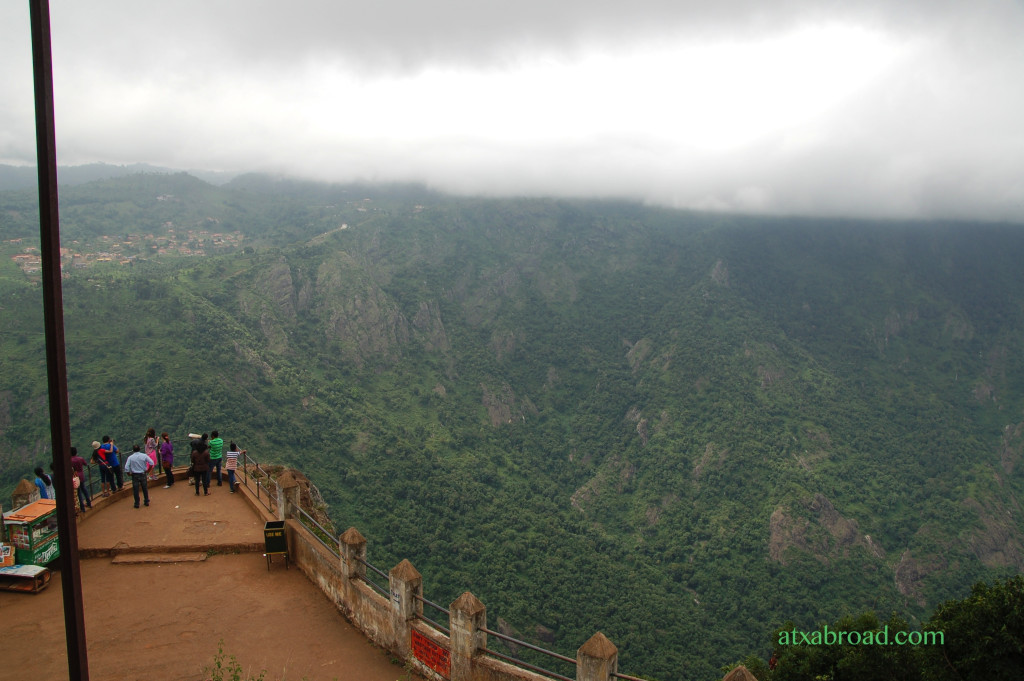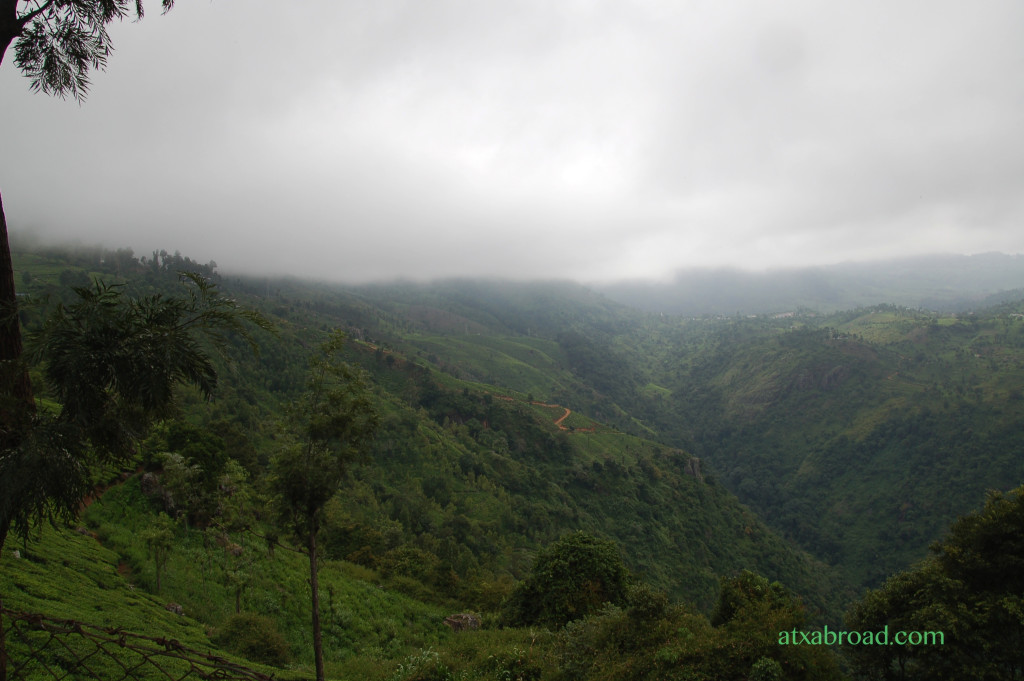 This was definitely one of my favorite trips in India, made even better sharing the experience with my sister and niece.  There are not a lot of must-see sights to tighten one's agenda, and instead we just slowed down and soaked up the surroundings.  With the heat rising again I have fond thoughts of returning, but time is running out here.